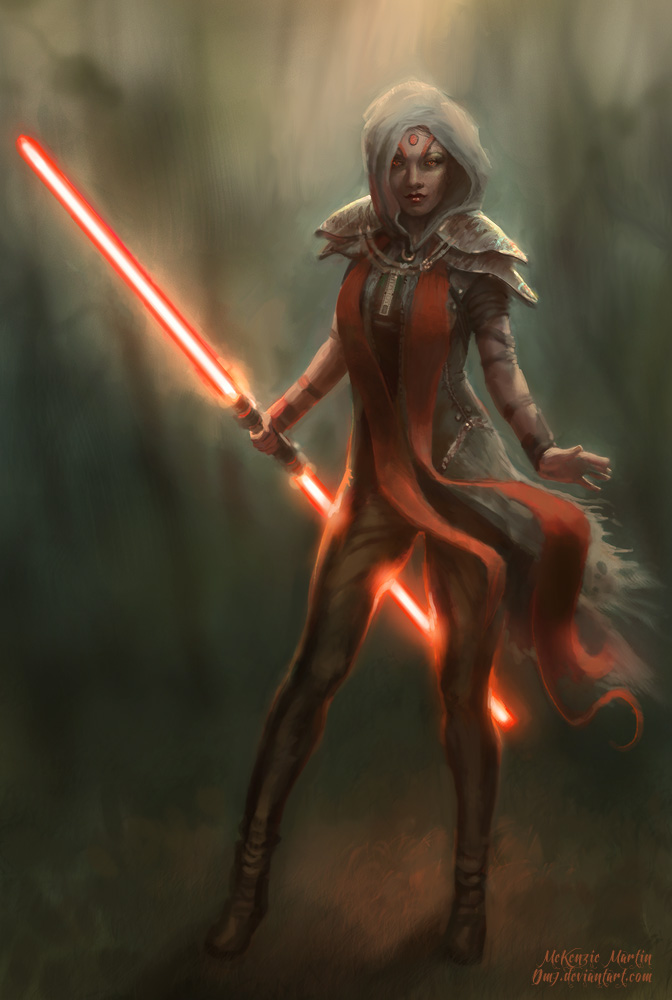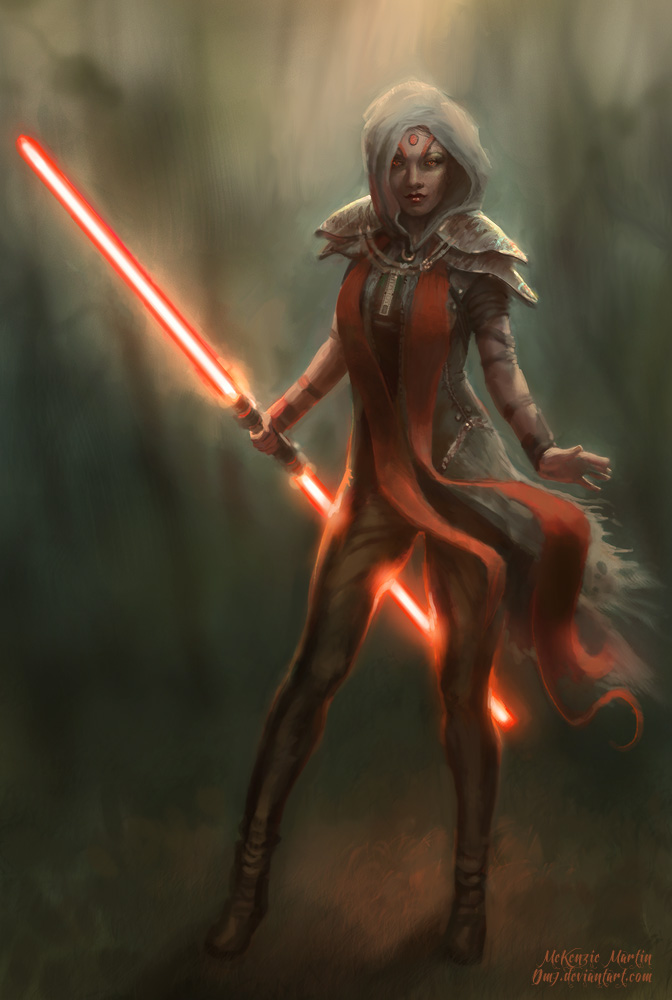 Watch
Originally a 1 hour speed painting with other friends on the topic of sith.
I ended up doing a female version

And one of rare works I spent more than 5 hours on so I'll call this my birthday piece and my next level of work, I really gave it my best. Really! Having a new monitor really helps!
The only reason I've stopped it now is that my laptop is suffering some annoying lags... I've put up with it as long as I could to produce this, but it gets to me after a while.

Don't worry though I'm getting a new pc soon! It's being assembled now.
Having seen the work in progress images, I can say this painting has grown quite a bit.

First of, the parts I really like:
- A Sith LADY! That's a first for me.

Never really seen any female Sith lords before, so this puts it high on the originality for me.

- Her eyes, they really glow and speak enigmas..
- Her face: nice use of shadows and I love the face paint (wouldn't mind seeing a closeup of just her face). She has a frightening expression; stand aside or you'll end up on my barbecue!
- Her clothing: I love her shoulder plates, especially with the blue highlights on them. Brings a bit of contrast to the otherwise quite red outfit. The waving scarf (? not sure how to call it otherwise) adds a bit of movement to the image.
- Lighting: a nice mix between shadows and lighting. The red glow helps making the whole scene more gloomy, adding to her dark side.
That said, I'm still not quite sure about the light sabre. It stands out a bit too much; maybe it's the bright inner core lacking a bit more gradient, or feeling that the position wouldn't really work in real life (possibly even scorching the back of her legs). It feels that the lower end of the sabre should be a bit thinner/further into the distance.
Around the handle of the weapon it sort of blends better into the picture than on the ends (possibly because of the added fog).
Finally: her legs. They certainly did improve through the various versions, but somehow the position of them still feels a bit off. (Something you commented on yourself as well).
Overall it is an impressive image though that indeed deserves a place in your portfolio!
The Artist thought this was FAIR
7 out of 8 deviants thought this was fair.