literature
The Glimmer in His Eyes

Literature Text
"Thanks for the hard work, Starlight!"
"And to the rest of you!"
Starlight Glimmer chuckles as her fellow village-mates head out of the Sugar Belle Bistro. She had been paying her dues for her past mistakes since her return to the village by helping any way she could, all with a sincere heart.
Her return was met with scepticism at first, even with the alicorn princess's blessing. Nopony really wanted her back, but they guessed they could use the extra hooves regardless, rebuilding lives around the village after those revelations.
A month after, the villagers begun warming up to the idea of a reformed Starlight Glimmer and were less scornful of her. Things were beginning to change.
Starlight Glimmer, however, sighs a little, knowing her past misdeeds were a weight on her back that can't be easily lifted, no matter how many tables she waited.
"Thanks for your help, Starlight. And I mean that."
"Not a problem, Sugar Belle.", Starlight answers, smile soon wavering with despair.
"Look, it's alright." reassures Sugar Belle. "You don't have to beat yourself up about it. You did become a little crazy but some of us here are starting put it behind us."
"But what I did was unforgettable. Unforgivable."
"Oh, come now, Starlight. We all make mistakes."
"Ugh. Maybe, but..."
A moment's silence. Sugar Belle attempts to add on the encouragement, but was cut short by the sound of a patron entering the bistro.
"Oh, hi!" Sugar Belle greets the customer. "Welcome to the Sugar Belle Bistro. I'm Sugar Belle. Could I get you a table for...?"
"Just one."
Starlight Glimmer knew that voice, as it echoed the mostly empty bistro. She looked up at the pony with the blazing orange coat at the door.
The orange stallion looks back at Starlight, scanning her from head to tail, before his face lights up.
"S-Starlight?! Is that you? It's me, Sunburst! Oh golly, how've you–"
"Don't.", says Starlight, recoiling. "Don't pretend like you know me."
"Star?"
Starlight feels her spirit quivering with overwhelming emotion. Her newfound life and rekindled friendships she could deal with, but not with him. She wanted to forget. She wanted out. She shoves the stallion aside and bolts out the door.
Calls of "Starlight" fades away as she goes farther and farther away from the bistro.
Starlight kept going. She wanted to get away. Far away.
Zap.
A bright flash blinds Starlight from the path ahead and she collides with whatever teleported in her way. She struggles to get back on her hooves, but is held tight. She struggles more.
"Star! Star, it's me!"
"LET ME GO!"
"No! I'm not letting you go! What's gotten into you?"
"YOU! YOU DID! You did..."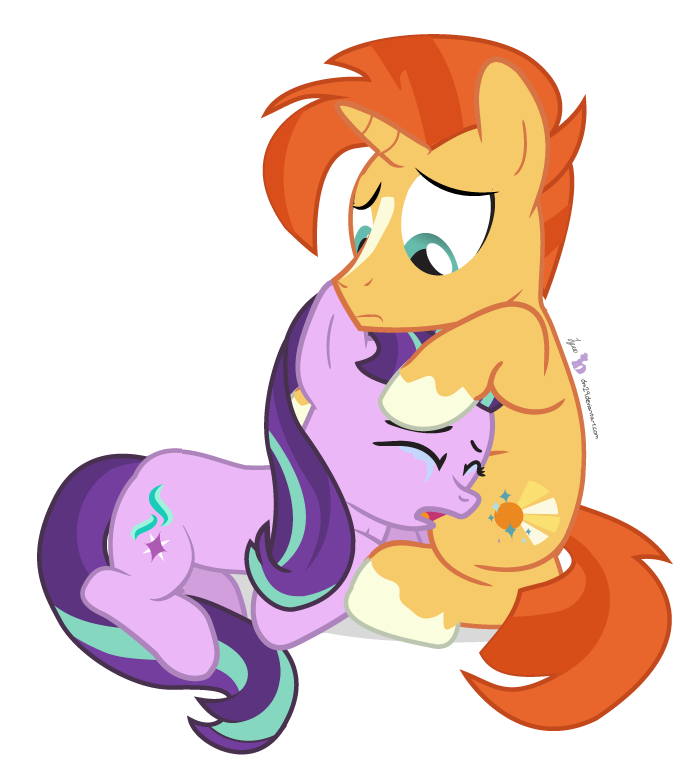 Sunburst feels a dampness in his chest. Starlight was weeping, muzzle digging deep into his coat.
"Hey, hey. It's alright. I didn't mean to–"
"You left me, Sunburst. You left me."
"I–"
"You left. You got your dumb cutie mark and suddenly you didn't need me anymore."
Sunburst picks up Starlight and holds her as tears run down his cheeks.
"That's not true, Star."
"I did need you, but we just fell apart. We grew distant. And then I know I left for Canterlot. But by the time I got home, you weren't there..."
"I'm really sorry things became this way. I wish I was a better friend to you. I never wanted anything coming between us."
Starlight begins to let out a few things.
"Sunburst," goes Starlight, "from the day you left I wasn't the same. You need to know that I've done some really hurtful things. I ran this village. Took control based on the fact I never wanted anything to change. When I saw the bigger picture, I wasn't blaming anypony anymore. The hopelessness, the despair... Most of what I created here is gone now. I don't know if any part of me still remains."
"That doesn't matter to me. Is the Star I know still around? The Star who's smart and strong-willed? The Star I remember?"
There was a long pause. Was she ready to move on despite all that she'd done? Starlight wasn't confident with any outcome she put together in her head, but decided to take a hoof forward.
"I guess she is."
He looks at her, wiping a tear from her face.
"That's the Star I know."
Sunburst kisses her on the forehead, and hugs her close.
"I've missed you so much."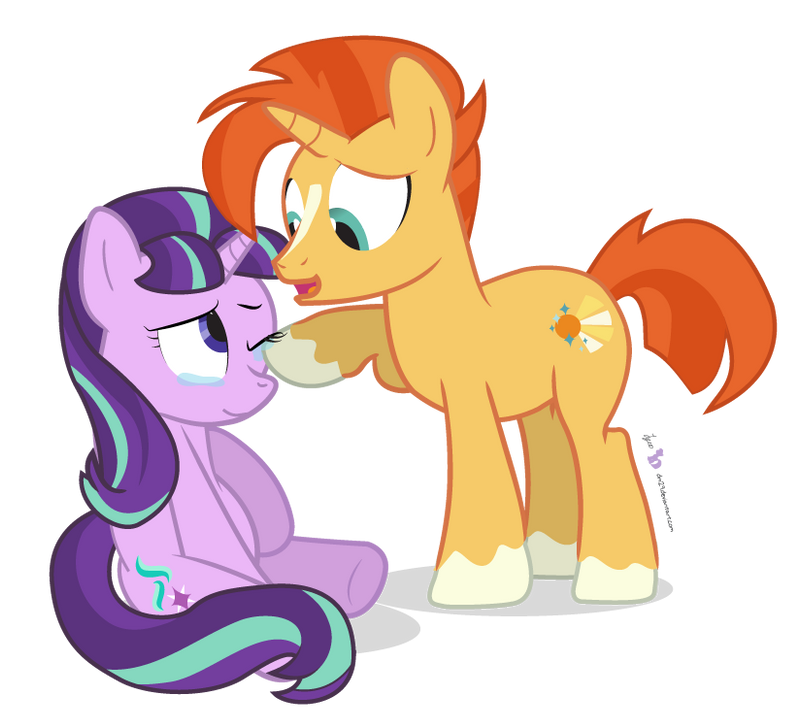 Since the end of the latest season, I wanted to pen a short story about Starlight and Sunburst. It didn't have to be romance, and I guess I tried not making it that here. Two friends who miss each other a lot.
[!W]
Be a Patron! Commission Bonuses, Sneak Peeks and More!
"My Little Pony: Friendship is Magic" & Original Characters © Hasbro