Just a fun and quick, messy, colored bust sketch pinup up of the character Rainbow Quartz.
Yet another Steven Universe character I have decided to draw. Despite not being that much into the show. I am just a sucker for character design.
After finishing my other picture ,a gift for Bur of her Gemsona OC, as seen here;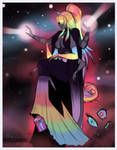 I just wanted to keep drawing fun pinup/girly things. Keep my creativity going. Then I remembered this character. And decided to give her a go.
Also, this has been a much, much, Much, MUch, MUUUUUUUCH suggested character to draw. Mostly suggested by ( more like screamed towards me)

. Seeing as she is an 80s inspired, big haired, dancing character. And if you follow me, you know I love drawing me some 80s chicks with big hair and such.
Also some others have suggested to me that I'd dig her design, and ought to draw her up. So I finally did a digital piece.
I honestly wouldn't mind drawing her again. I just might.
Who knows?
I dig her body shape, the outfit is fun. And even though the colors are a bit hard to decipher just from screenshots alone. I dig her color scheme.
There was a lot of bouncing lights, harsh lighting, and effects in references/images of her that made it difficult to tell what was lighting, and what was actual character design. So I just went with her being a blonde overall for this image. I may be incorrect, but it made the most sense to me when it came to choosing colors. And I decided not to go to big on lighting/bouncing lights because, I just didn't. Just about every color was taken from screenshots and or a character reference model. Few were improvised.
Also, as usual, a copy/paste concerning me watching SU;
"Okay, seriously, in all honesty, I do not watch Steven Universe. I appreciate the show's existence, and how happy it has made soo many people (my friends included

). And the character design can be soo adorable, cute, pretty, and fun. But the show itself just doesn't catch me. No offense towards it. Like at all. It seems like a fun and watchable show. With a good story and such.
It's cute, but it's no Sons Of Anarchy. Or American Horror Story. Or Ash VS Evil Dead....Or Game of Thrones... Or Sex And The City."
Anyways. Enough rambling.
Fun character is fun to draw.
Here you go Buri. I finally did the thing.
-Danielle
Other SU characters/images by me: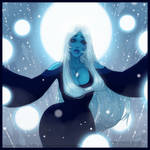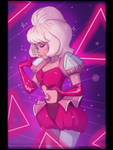 The Character Rainbow Quartz is © Rebecca Sugar/Cartoon Network. This image is a tribute/fanart.
Please be Respectful to the artist(s), You are not permitted to use this image(s)for role-playing,,Facebook Profiles, Tumblr profiles, Twitter Profiles, copying, tracing, basing, profile images, icons, sales, re-uploading, manipulations, commercial use, etc...

This is NOT a stock image
Image details
Image size
832x888px 929.3 KB