.... WELL.
In my last image, I had stated that

's voice was echoing in my head that in Pokemon, Primarinas were usually males. And it just, nagged at me. And nagged, and got my creativity flowing.
SO!
I decided to try and have some fun, draw out of my comfort zone. And make a rugged, badass, under the sea swole biker buff beefy dude merman version of a Primarina.
"YOU WANT A MALE PRIMARINA?! YOU'RE GONNA GET A MALE PRIMARINA! MYYY WAY!"
And I just kept on going with it!
This was honestly such fun to do. I kept adding details and details. And I didn't want him to just be floating there, so he's bare knuckle fighting a Sharpedo.
Why? Because, why not? 'Tis my gallery, and my brain.
I am actually also soo happy with this, because I always struggle with drawing men, and their
"not Jessica Rabbit-like"
anatomy.
I just never know how to pose them, what to do with their legs, their proportions are often out of whack with my sketches. Soo many issues.
I usually just don't draw dudes.
And I am loving the Sharpedo, I used to draw sharks a lot growing up. And I miss doing so.
anyways. Here he is, swole, brutal Primarina (Primarino?) mer-dude mc beefcake.
My female Primarina Mermaid </>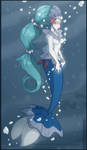 Thanks for looking!

#MerMay2019 guys!



-Danielle

The Character(s) in this image is/are © Game Freak/Nintendo. This image is a tribute/fanart.
Please be Respectful to the artist(s), You are not permitted to use this image(s)for role-playing,,Facebook Profiles, Tumblr profiles, Twitter Profiles, copying, tracing, basing, profile images, icons, sales, re-uploading, manipulations, commercial use, etc...

This is NOT a stock image
Image details
Image size
808x990px 877.74 KB