A quick, flat colored, sketchy art-trade with my friend

of her character Kleng.

Fun fact, she actually bought this guy off me way back in 2015!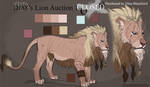 We figure him as possibly being a bassist in a Doom metal band. Possibly Shellah Shroud's band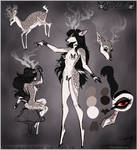 And a keeper of birds.
A total tough guy. A skater in his younger days. I picture him surfing. Maybe even motorcycles.
But that's all up to Dina lol.

(Is this anthro? I think he looks more like a were-lion... Which I honestly like.)


Also, I rarely ever do trades. I cannot remember the last trade I even did.
And, I rarely ever draw the male form. I just, don't know how to pose them. And I am not as versed in their anatomy. (which is one reason why I draw soo many hot chicks lol ) . I know chicks, I am a chick, therefore it is easy for me to draw chicks. I know how different shapes, muscles, and features act. I know where this and that go. They're round and curvy and so fun to pose. But dudes? In an artists' sense? Baffle me.
I don't know why. I have eyes. As artists, we have more than enough references and tutorials out there.
I guess I am just missing a connect/understanding. I have to work on that.

I really need to practice sketching the male form. Because, when I can pull it off, they are fun to draw.
Especially metal dudes. Big muscular metal dudes.

Anywho.

Thanks for doing a trade with me Dina!

I am excited to see your half!




It was soo fun revisiting this dude. And I am glad you like him



-Danielle


This is a drawing for a fellow artist, of their personal character. Please be Respectful to the artist(s), You are not permitted to use this image(s) or character(s) for role-playing, copying, tracing, basing, profile images, icons, sales, commercial use, etc... Only the person for whom this image was created for may have permission to use this image(s). (exception of sale and commercial use.....)


Before you ask me for a commission/anything, please go to my main page to see if I am open for what you want. My Art Status/info is in the upper left corner, in my "Featured Deviation" widget. Also you will see my prices, as well as a link to a journal with my Terms Of Service.THIS IS NOT A STOCK IMAGE
Image details
Image size
988x739px 824.46 KB