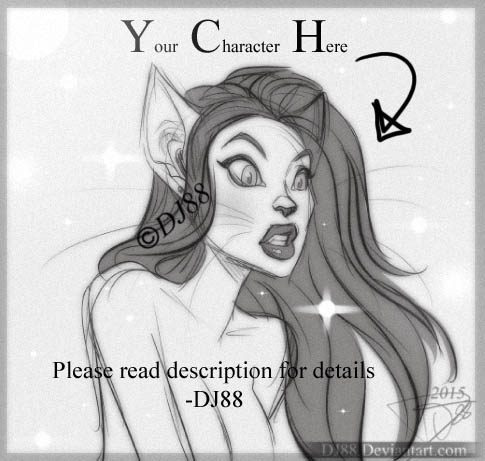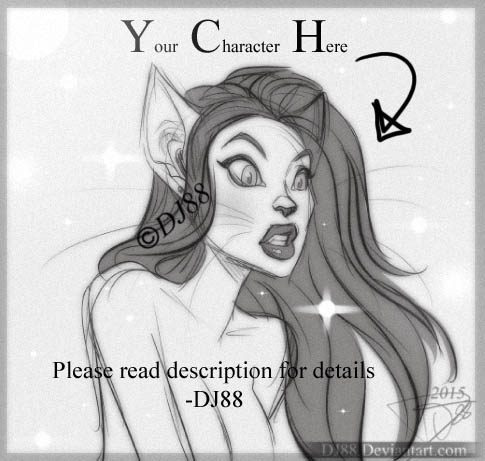 Watch

What will the price be for this commission?
My usual prices! (commission prices can be found on my main profile page, under my art status)
Since this is a Headshot/ Bust image, here are the prices;
-Polished Bust sketch, colored, shaded, whatever BG?- $30
-Fully outlined Bust , colored, shaded, whatever BG? - $40
Shading/BG will be thrown in for free! (even if it is a sketch!)


(These prices are slightly lowered based on my existing current prices, Plus I am throwing in shading and a BG. I consider that a decent deal)
WELL. I've not done one of these in a long time. I was sketching up a cat, and decided, this may be fun!
I am thinking of raising my prices of commissions soon. Just wanted to throw that out there.
Well, this may be different for me. I don't do very many Anthro/Furry type of commissions. I am not sure if I am seen as a "furry" artist or anything. Probably not, but what do I know?
Because I am not a "Furry". Nothing against Furries, I have a good number of friends that are actual Furries. So I don't mind them, nor do I condemn them. Everyone's into different things. As long as no one (or animal) is getting hurt, I don't see an issue with it I suppose.
.... I am getting off track.
Anyways, I have sketched up a few pics in the past of this style of "Anthro" Cat chick. Mainly with cat/cat-like features. And have been reluctant to upload them as Y.C.H commissions. For a few reasons. BUT! I am kinda wanting to give it a shot. As it is very fun to draw these. I use this cartoony style, and a more detailed "serious" style. But I wanted to test run this kind of commission in the cartoony style.
So, yeah. If anyone has an anthro character (or even a four legged/"feral" character) , that they wish to see in this kind of style. Here's a chance at it I suppose.
The hair in this drawing is just an example. I will edit this character's features the best I can to match whichever character you are interested in me drawing up. Meaning hair, bust size, lip size, markings, ears (if your character is a lion/big cat/anything other feline species.), eyebrows, makeup, piercings and accessories. etc... So no need to worry about that.

RULES! / OTHER INFO!
----> please read these before making an offer! <----

Paypal money offer only please. USD dollars. Please do not offer me DA points. I have very little use for them these days. If I want points, I will offer a point commission.

What is a Y.C.H. Commission?
Y
our
C
haracter
H
ere Commission
Well, I draw a sketch, upload it, you decide if you like it enough to pay me to turn it into your original character, I edit it, and or finish it (if you wanna keep it as a sketch, polished sketch, or fully finished picture is up to you, and what you're willing to pay for.) And BOOM. You got yourself a commission/picture!

(Okay....not that I think this is going to happen....) But please, no arguing in the comments section.

This is NOT first come first served. I will choose whose character to draw.

Only YOUR OWN original character please
. Nothing that belongs to, or are linked to an existing trademark/copyrighted concept that is owned by a company/person that you are not connected to. Please, just your own original character.
(No characters from movies, TV shows, anime, manga, video games, comics, books, music, music videos, etc... Or character based on any of those things)

I am sorry, but I
will not
edit this picture to depict any adult themes, or nudity. I will cover the breasts up with either hair, clothes, cropping of the image, or pose. I try to keep my gallery clean. Aside of some gory, monstrous images here and there. And some semi nude girls, and or suggestive. But I usually find a way to cover the naughty bits.

Please provide a link to your character, so I may see what you want me to draw before I choose or attempt your character/you for the commission. I need to make sure, that I can draw the character, not only in skill, but in Copyright issues as well.You can link to several references if you want. Again, this is not first come first serve.
And please, ONLY LINK HERE. Do not send me a note. Please just link in this comments section. So I can keep track of everything. LOL

Please only offer to buy the commission if you can pay right away, or within 3 days of the offer. I will not start the drawing, or upload it, until I receive the full payment. If you take longer than the 3 days, I will message you, asking about the payment. And we will come to a decision as to whether or not we will still be in business together.

If you are the one to buy the commission. You are buying my time to draw the picture, but may not re-sell the picture. You can use it for profiles, RPs, icons, etc... But please do not claim it as your own, and please link back to the original if you use it elsewhere. And do not use it for monetary gain. You do not have my permission to make money off of it.

If you are NOT the person that buys the commission slot..... You have no rights to the image at all, unless I, or the commissioner, give you permission to use it. However, again though, not for monetary gain. If you wish to use the image, you must ask both of us or either of us. Please respect the artists.

The style of the character will be of my cartoony style.

Some things in the image may be subject to change in terms of the pose. I may move/extend a limb, orfix anatomy errors. Along with altering the sketch to become your character.
This is a "Your Character Here Commission" sketch, a drawing that will be turned into a commission. You do not have my permission to finish/alter/use this sketch/image in any way shape or form. Please be Respectful to the artist(s), You are not permitted to use this image(s) or character(s) for role-playing, copying, tracing, basing, profile images, icons, sales, commercial use, etc...

Before you ask me for a commission/anything, please go to my main page to see if I am open for what you want. My Art Status/info is in the upper left corner, in my "Featured Deviation" widget. Also you will see my prices, as well as a link to a journal with my Terms Of Service. THIS IS NOT A STOCK IMAGE