The tournament bracket is now viewable! Take a look!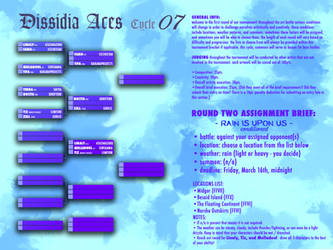 All of the information is available on the image, but I'll copy paste here so it's easier for a few of you.
GENERAL INFO:  
welcome to the first round of our tournament! throughout the art battle various conditions will change in order to challenge ourselves artistically and creatively. these conditions include locations, weather patterns, and summons. sometimes these factors will be assigned, and sometimes you will be able to choose them. the length of each round will vary based on difficulty and progression. the lists to choose from will always be provided within this tournament bracket if applicable. this cycle, summons will serve as bosses for boss battles.
JUDGING
throughout the tournament will be conducted by other artists that are not involved in the tournament. each artwork will be scored out of 100pts.
•Composition: 25pts.
•Creativity: 20pts.
•Overall artistic execution: 30pts.
•Overall brief execution: 25pts. (Did they meet all of the brief requirements? Did they submit their entry on time? There is a 10pt. penalty deduction for submitting an entry late in this section.)
ROUND ONE ASSIGMENT BRIEF:
icebreaker freestyle!
• battle: against your assigned opponent
• location: choose a location from the list below
• weather: freestyle (n/a)
• summon: (n/a)
• deadline: Friday, February 23rd, midnight
LOCATIONS LIST:
•Stellar Fulcrum (FFXI)
•The Promised Meadow (FFVIII)
•The Royal City of Rabanastre (FFXII)
•Narshe Outskirts (FFVI)
NOTES:
• If n/a is present that means it is not required.
• in the first round, no one will be eliminated, but given the chance to fight one last time to reclaim a spot in the tournament.
If you have questions please post here or on the bracket!