Hello everyone!
Cycle 7 is now over! This means we have a winner~ I also have something about the next cycle and whether it will take place or not, but head over to the Cycle 8 section for that :)
Cycle 7
Though I won't have time to get together with others so we can give our scores for a while, we still know the winners since the two entries were both from different brackets :D Congratulations to
icecheetah
for getting first place and to
lemfern
for getting third place! If you want feedback like the previous time, please leave a message and I'll try to arrange a feedback session asap :)
First place: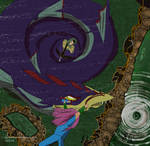 Third place: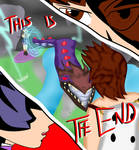 Thanks to everyone who participated this cycle!
Cycle 8
Now on to the question of whether there will be an eight cycle since I know some of you have been waiting for a new cycle. To be honest, I am personally not sure whether this format still works. I am busy as well, so I completely understand people are not always able to draw something before the deadlines. This is why I was thinking of switching things up if we do another cycle. This would mean having multiple lightning rounds (and perhaps a mini-tournament in summer) or at least something that you can just join whenever you have time as long as you entered at the beginning of the cycle. However, I do want to know if people are still interested in an eight cycle before I really start sorting things out, so leave a message if you are!
That's all for now.
Have a lovely day!