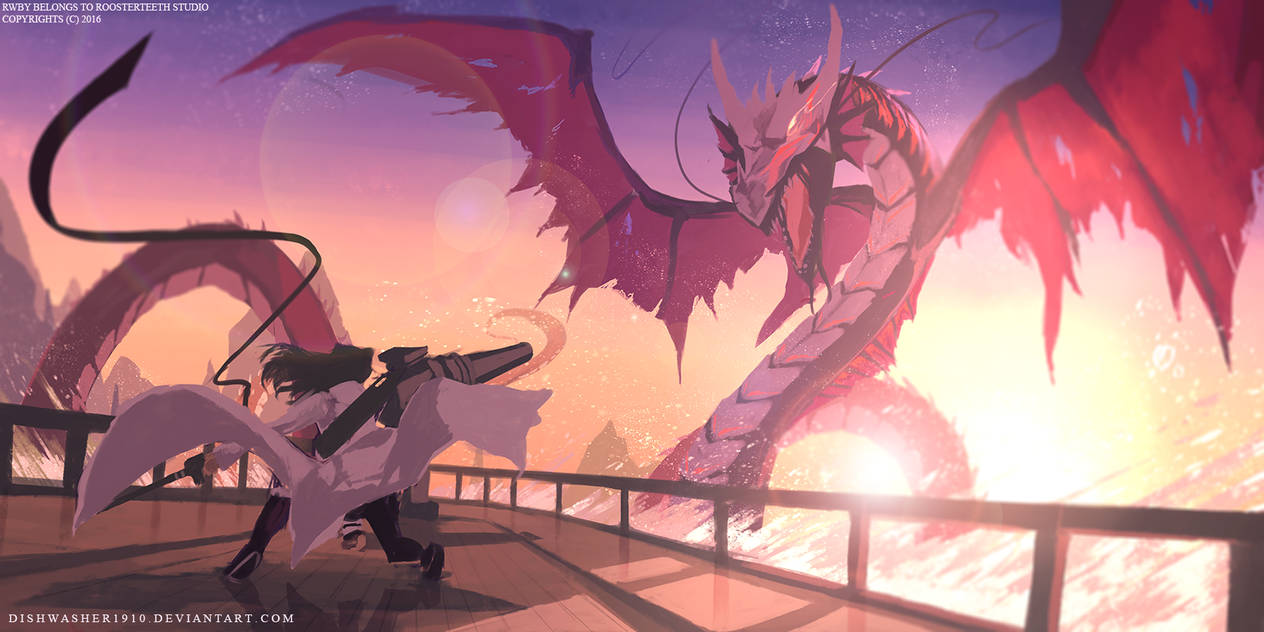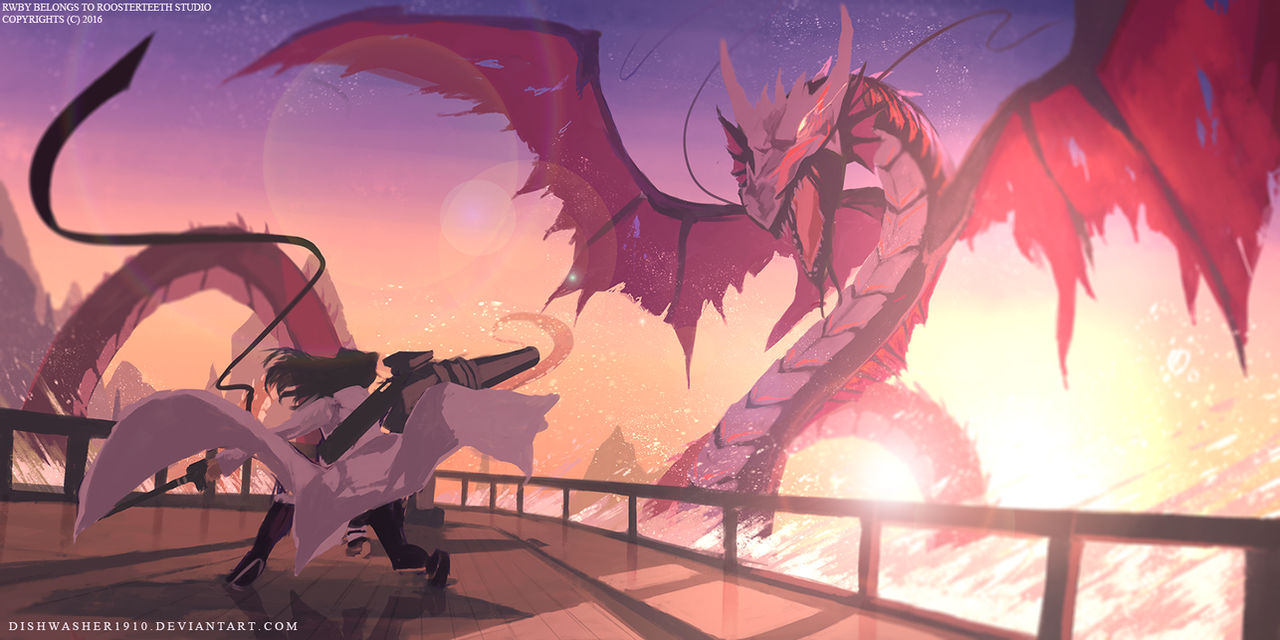 Watch
Row....Row....Row... ya ...SHIT !!!
support me on Patreon :
www.patreon.com/Dishwasher1910
to get the non-watermarked and HD files for this:
FULL HD file : 4000x2000 pixels
The Sun is FANTASTIC, it really brings out the fight in a literal different light! Really brings out the whole "SHINE" on the boat. And the shading all over the boat, makes the Grimm tower over the boat. That's my say for the lighting and the shading.

Blake's sheath and the "Boat Cannon" as we shall call it, is...rather confusing. The sheath makes it look like it's part of the Cannon when it's really not. Although I admire your work, you should've considered moving Blake a bit to the right, to avoid that confusion. Also, the extension-while it makes Blake look more impressive, I'd thought it might be...a bit shorter, realistically to match the scene and all that. And the fact that you made the cat ears on Blake a tad bit short, like we can barely see them...make them slightly bigger so we can shot-I-er-mean-spot on. (Don't hate me for that comment, I don't hate Faunus!)

The Splash Particle effects REALLY make this painting, well-outstanding! It brings out the fact that the Grimm is all over the Ocean, considering it's like a Hydra of sorts (We don't know the offical name...) The torn wings are OUT, but different colors make a nice comparision, although the wing on the right looks a bit too close to the frame...

That's all, from a really perceptive young teenager! Bring the Judgement!
*gets all dislikes* Awww.....

Ok, sorry for the bad puns earlier. Don't kill me, ;_;.
Possible Request?
You should've add Sun Wukong to the mix, seems like he would make a nice addition. Or maybe make a painting on HIS side of the view, like riding the Grimm! Or making (Naruto? I don't really know...but uh, yeah....) clones fighting with him as he creates them or something...I dunno.
The Artist thought this was FAIR
54 out of 56 deviants thought this was fair.
As a huge RWBY fan, I can say that this is a great painting for the show. A new grimm monster rising from the depth of the sea to attack a tiny ship, with Blake stepping up to take it on. The low angle and view from the back is also very appealing. On the other hand, I think that the cannon or Blake's sheath could be painted a different shade from one another so that it doesn't seem like the two of them are one piece. Also, it looks a little bit like Blake's right arm is missing. (Maybe eaten by the giant sea dragon xD.)
The Artist thought this was FAIR
39 out of 39 deviants thought this was fair.