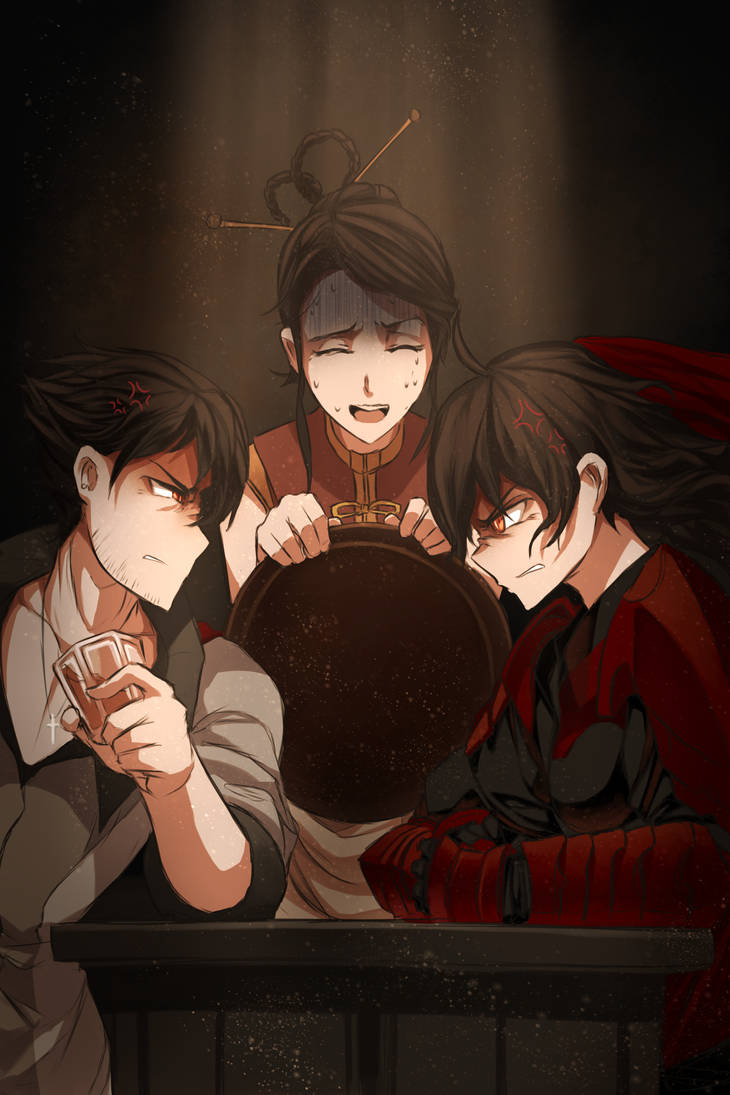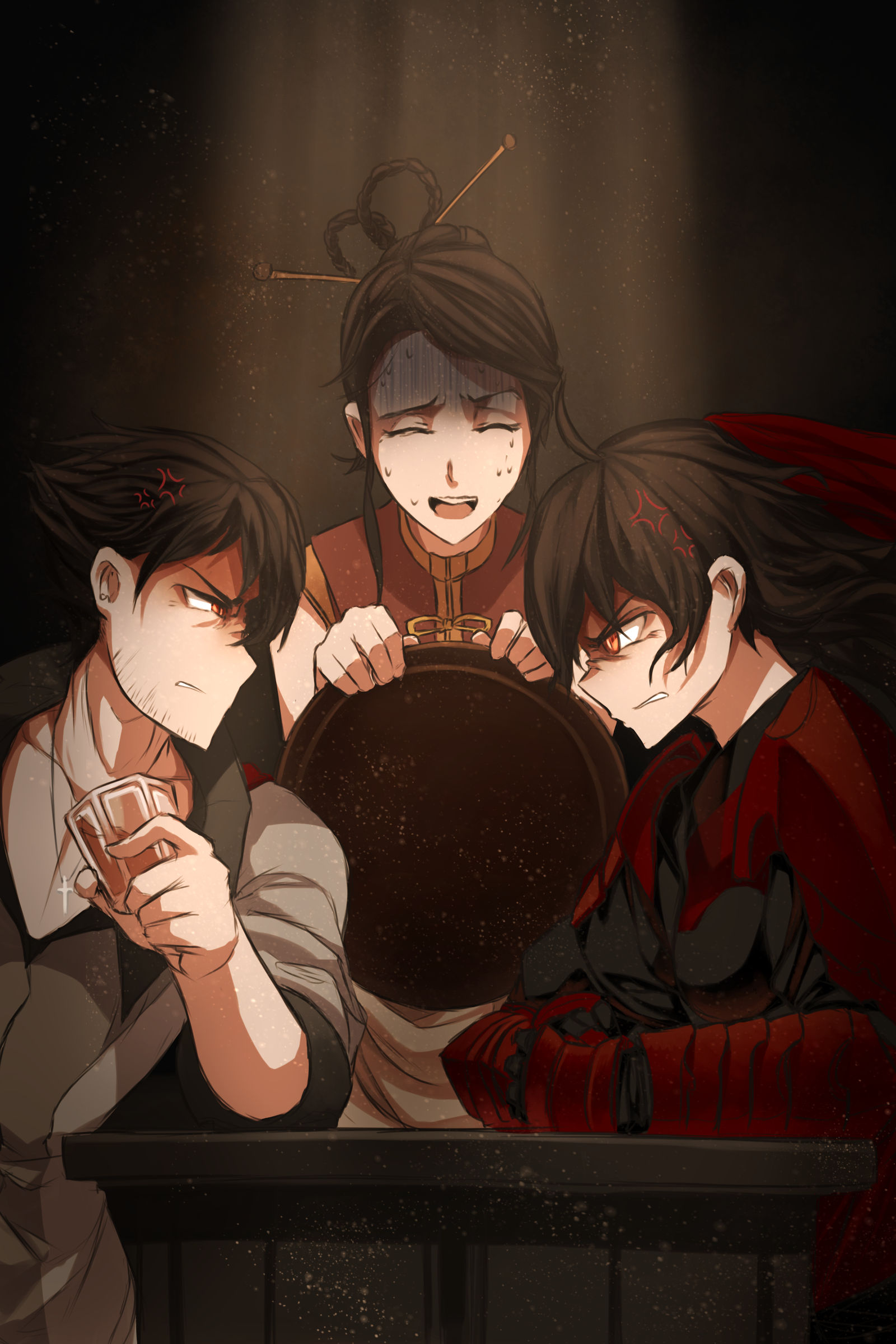 Watch
"uhh...I'll bring more drinks out"
support me on Patreon to get the HD files and other rewards , including an opportunity to get a free ! commission .
www.patreon.com/Dishwasher1910
BWAHAHAHAHAHAHAHAHAHA I LOVE THIS!!! Ok, so third party member to add to comedy? Check. Classic anime anger effects? Present. I like the lighting, I also like the focus on the faces. Anything I would pick at is too fussy, but here we go.

One thing i noticed is that Raven's Hair's shadow on her face doesn't have that little branch shadow, and something about her left arm looks a little weird the longer I stare at it: I can tell anatomically it's fine, but I can't tell the depth at which her left hand is located: the left hand's depth appears to match with where fore arm is located, and if that's your intention, that's fine. Overall, I think that the problem I'm having with the arm arises from the focus being the same along the arm, and makes it look like her entire left arm is at the same location, where as Qrow's left arm becomes more focused as we travel along the arm towards his glass: maybe if you had more focus along the arm towards Raven's left elbow, it would've been better.

Physical things like ear and "sketch lines", while unrealistic, don't hurt the picture: if anything augment the picture.

The only final comment I can say that is that while it is true that I absolutely enjoyed the picture's comedy, I feel that I enjoyed it only because it drew from classic anime tropes (like the angry visual effects, the nervous smile, sweat, etc.) If I consider that, I don't know if it's right to say that I enjoyed the piece per say, but rather then the elements it used to augment it's appearance. To make an analogy, it's like enjoying the condiments to a dish more than the dish itself. Regardless, well done.
The Artist thought this was FAIR
90 out of 92 deviants thought this was fair.
So when you look at the stars I gave this work you might ne shocked. I don't find this piece bad, but neither do I find it particularly stunning. It's average for me. This has all to do with its uniqueness ergo its originality. Ironically I find vision and originality two sides of the same coin that's why the rating is mostly consistent with each other. As for the technique, it's really impressive, but you've done better.

Now as for defending my view:

when I read the previous critique I decided to take a look at Raven's arm and now I cannot unsee its weirdness, but it's not so much due to the arm. In fact when I look at the angle, it seems as if she's missing her left breast which is practically replaced with the arm. Maybe picking an angle like this wasn't the smartest decision.

Now for the rest of the piece. It's fun. Nothing more, nothing less. You've already introduced us to your style and you've clearly mastered it, however it's a familiar style which many anime fans apply to their artwork. Tat is why my rating of the originality is so low. Of course you can pick any scene you want and you can be very original in the application of the style, but this specific scene isn't the most impressive.

FurthermoreI don't think you captured the atmosphere of this scene adequately. It has the typical anime trope of two characters being annoyed with each other, but in a comedic way. The scene in the show was for more gloomy, dark and tense than that. Comedy had no part to play in it. The only thing from which I can garner the tenseness in the scene (besides the exaggerated veins) is Raven's narrowed eyes. She looks REALLY PISSED.

Finally, I feel like you could have done a bit more work with the lighting and the shading of the piece.
The Artist thought this was FAIR
19 out of 60 deviants thought this was fair.