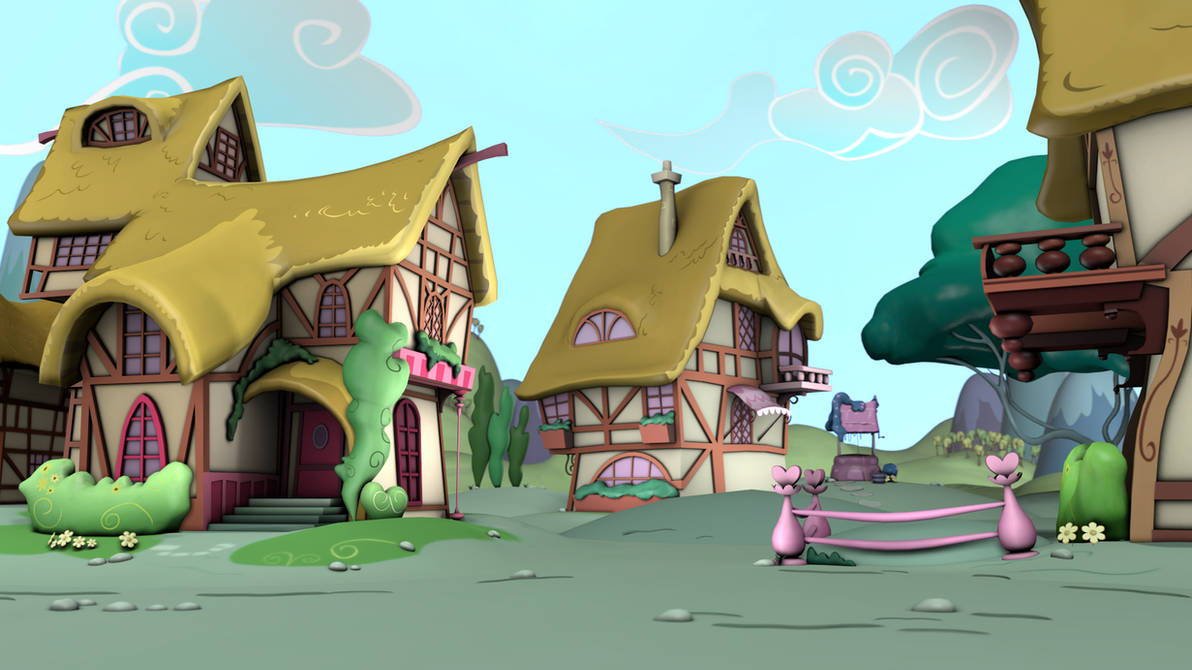 Welcome to the release page for Ponyville Environments! This package includes everything you need to create your own scenes in Ponyville. All of these assets have been built in such a way that you can create your own arrangements and scenes without restriction. There are 8 unique buildings to work with, all which have been compiled twice with a mirrored variants to increase the potential amount of uses. Every building has their own "Ground Base" (GB), a small terrain platform that building rests on. Each building with their GB can be placed on a large flat plane called the "Ground Canvas". In addition to this, there is an assortment of vegetation, ground details, props, and hill models that can be used to the decorate your scene and make it feel natural.
Ponyville Environments - Core Objects
These are the primary models used for creating the scene layout you want and will dictate the design of your scene. There are 8 total building models, all shown here with their respective ground base. At the very bottom you find a small collection of detail props. These small items can be used to decorate your scene even further by adding small paths, rocks, weeds, etc.

Vegetation Objects
The below models are the vegetation props, all of the bushes and plants. With this set of models you get the major bush models that are usually found beside buildings, a couple large bush models seen in the background and one very big tree.
Some of these bush models have an alternate skin for their appearance during winter after snow that makes them appear frosty.
On the micro scale there are also 9 small squiggle models. These models are items that can help with decorating the ground and give it those small drawn details like you see in the cartoon.
Additional Objects
These additional objects were created to help differentiate a scene and add more possibilities in scene building. They were created for specific scenes in the animation but can serve just as useful for whatever scene you decide to make. The first model is a commonly seen wishing well. The well has 4 bodygroups, allowing you to customize its appearance by turning off its components (for example the bucket). There is also a model of a simple river, the flow and movement of the water is animated. There are also three small hill models of different sizes, each of these have five different skins. The small hills let you add lumps to the terrain so that an area doesn't appear too flat.
The Hill Models
When it comes to building the background, the hill models below play a very important role. These can be used to detail the far background and break up the distant horizon. I also encourage you to use the hills found in my Sweet Apple Acres release alongside these.
Snow Addons
This is a small addition to the Ponyville set that allows you to add detailed snow two of the building models and the bushes that were seen earlier with an alternate frozen skin. The three small hill models seen under "Additional Objects" have a snow skin as well, letting you create lumps or piles of snow on the terrain.
Sheesh, lots to show, lots to work with!


Incase you're just now visiting, I'm happy to say that all the download links are fixed! It should no longer require that you request permissions. :)
(The previous Google Drive links had gotten broken from some sort of security issue a while back)