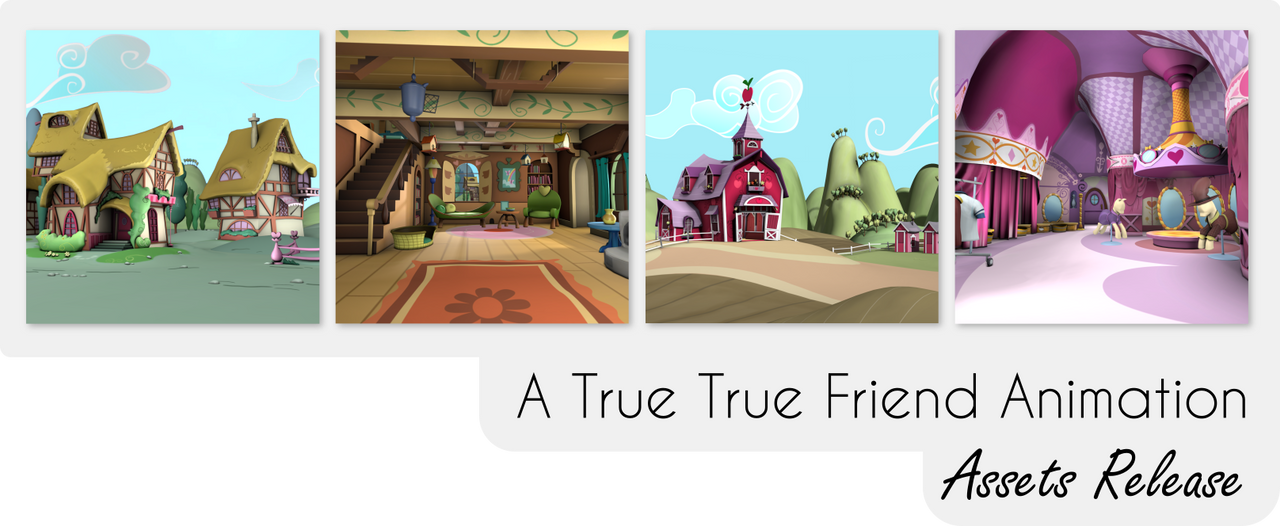 What is "A True True Friend" ?
A complete 3D adaptation of the A True, True Friend musical segment from the Season 3 finale of My Little Pony: Friendship is Magic. Endless hours were spent on modeling out the scenes and creating all of the assets featured in the video from start to finish.
The Environment Models and Props
All of the models created for this project have been released as free resources for everyone. They are available to all who use Source Filmmaker or Blender. You can download them from SFM's Steam Workshop, a manual download, or as their original .blend files. These downloads are available below and on their corresponding download page.
They should work well alongside any of the models based on
KP-ShadowSquirrel
's pony models and
Poninnahka
's ports in Source Filmmaker.



[Updated 5/2/22] Hello there! My name is Olivia, I'm a 3D Environment & Prop Artist. This is an old project of mine that I worked on while I was in high school back in 2015. It holds a very special meaning to me as all of it was done while I was homeless and bouncing around cramped motel rooms with my family. At the time this project was a huge escape and outlet for me, I'm still proud I was able to pull of this release and I hope it still proves to be useful to all who may still visit this page. <3


All of these models are available for free. If you would like to help support me, please consider donating! Thank you


Description
The Ponyville Environments package provides all the necessary models to create your own Ponyville scenes. These assets have been built in a way that give you complete control of how you want your scene arranged and achieve whatever look you want. Included in this set are two ground models, 8 unique building models, vegetation, decoration props, background hills, and more! In addition, most major assets have been compiled twice with a mirrored version to boost your options when building scenes even further!



The Fluttershy's Cottage package includes a completely modeled interior of the cottage and a wide arrangement of props. The model includes three rooms: the living room, kitchen, and bedroom. All of the furniture items, small props, and decor are individual items. This allows you to arrange items in the house in any way that you want. Each room has their own set of props to populate it and bring it to life. In addition, appropriate models have been compiled with bodygroups (SFM) to further provide control if needed.



Description
All of the models needed to create your own Sweet Apple Acres scene builds. Similar to the Ponyville set, this one is open ended gives you full creative control to build it however you want. Included is the barn model with interior, scene specific props, trees, and a wide range of various hill models. As seen in the animation, this scene can easily be transformed to a damaged, dead, and underkept state. All appropriate hill models have a skin to make the grass brown and a bodygroup to make the small trees appear dead. More inside!



Description
Carousel Boutique has been accurately modeled with all its iconic features and its own arrangement of props and décor. The props will allow you to build the scene however you want, just like Fluttershy's cottage. The main interior and showroom is present with a small back area. In this package you will find the modeled interior, furniture props, mannequins, dress props, a fully rigged sewing machine, and much more!