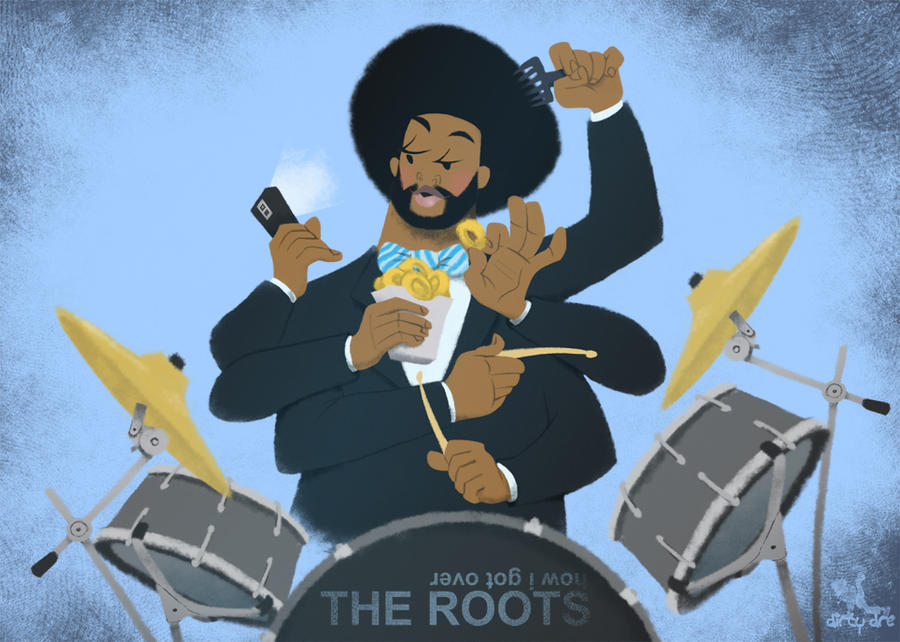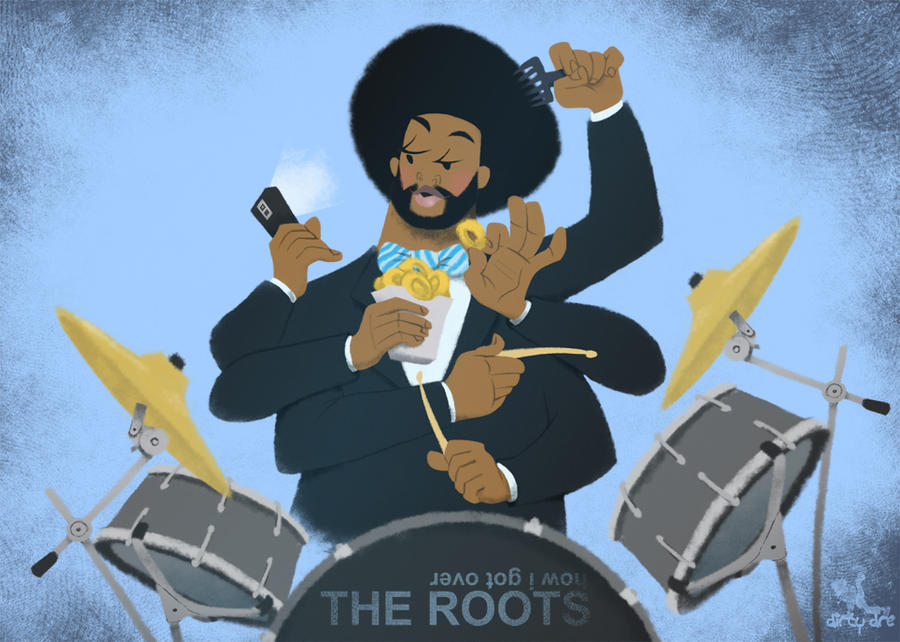 I recently joined the micro-blogging behemoth that is Twitter. It's great,
I'm hooked
! Perhaps the best part of being on this social platform is being able to follow virtually anyone! From Kanye to the Kardashians, if they're from this planet they're probably on Twitter.
You could imagine my excitement when I found some of my musical muses, like
Mos Def
and
Common
, online. Now when I clicked 'Follow' I assumed that with their busy schedules and hectic lifestyles these cats would almost never post a tweet. Between recording/touring/performing and occasionally sleeping, you would think that spending so much as 10 minutes tweeting would be too much, right? Yeah, nope!
Consider the shock when I discovered that the Musical Director for
Late Night With Jimmy Fallon
and percussion virtuoso drummer supreme
?uestlove of The Roots tweets all the goddamned time! How!?
Here's a little experiment; check out
his page
now and take note of the last tweet posted, then continue to read this.
It's impressive, seriously. Maybe less impressive if you're a 11-year-old Twilight fan-girl with Bieber fever. But when you're the Musical Director for a late night talk show, co-founder & drummer of the hardest working bands in the industry, constantly touring with The Roots, a music producer, hand-picked by Jay-Z, drum for an entire music festival, evening DJ, and make cameos in more commercials than television would allow, you're a busy individual.
So in pursuit to find out how Ahmir Thompson is capable of typing 140-characters of content on an average of
25 times a day
, I put this illustration together to try and solve one of the many mysteries that create the ethos known as The Brother ?uestion. How else is he getting in all this Twit-time?
Now,
go back to his twitter page
. I bet he's already posted something new. He has! HASN'T HE!?

Reply

Reply

All your harassment has worked...cuz i just clicked on the link of his tweet and up popped your deviation! Awesome job!
Reply

aaah..the Mayor of Twitterville
Reply

Reply


grrreat!
Reply

And he actually replies if you hit him up... hahaha, me and ?uesto chat all the time XD. This is ill man, you oughta @reply him with the url
Reply

lol I've been harassing him with the link. Still no word back lol
What's you twitter @?
Reply

Questo is that dude!

I follow him on Twitter as well, and I've often wondered just where does he find time in what I would imagine to be an extremely busy schedule to tweet about random dopeness!

Talib Kweli is another one...that dude tweets so much, I wonder where does he find the time to make albums!

Reply

True, Kweli is putting out two albums this year too
Reply

I know that Gutter Rainbows is coming out on the 25th, but I didn't know that he was coming out with 2 joints this year! He needs to get in the lab with Mos and make another Blackstar LP!

And the Reflection Eternal joint from last year was dope...but it seems a little too soon for another one despite the fact that it took him and Hi-Tek 10 years to drop the second LP.
Reply

Yeah, he mentioned something about another album in a few months. Mos needs to get back in the lab PERIOD! Ecstatic was fire, I want more. Though I think they should leave Black Star alone. They've both evolved so dynamically that a new Black Star album wouldn't sound like how we're expecting and could be a huge disappointment, I'm satisfied with the occasional cameo appearances from album to album.
Reply

Cool...I can always go for some Kweli! And yes, Mos does need to get back in the lab! I really dug Ecstatic as well...I actually saw him live here in ATL two years ago and it was seriously one of the best concerts that I've ever gone to!

But you do make a good point in saying that both of their styles have changed...especially Mos' style...and a new Blackstar LP would be much different from the original. So was the Reflect Eternal joint...but then again it has been almost 14 years since Blackstar first came out. As long as Mos makes his joints more like Black on Both Sides and The Ecstatic and less like The New Danger and True Magic, then we're good. Kweli is Mr. Consistent for the most part.
Reply

I always wondered why consistency was merited as a positive quality in hip-hop music. As if we're always afraid of change and growth despite the fact that consistency in the genre would mean we should all be listening to house music 'cause it's the closest thing we have to Afrika Bambaataa and the Zulu Nation lol. Tru3 Magic had some phenomenal tracks to add to Mos' catalog like U R the One and & There is a way. New Danger wasn't as bad as you remember, Black Jack Johnson is a crazy band and I wish he toured with them more often. That album carried old style Mos with songs like Sunshine and killer jawns, The Beggar is classic! Give it another listen.

The problem with consistency is, using Kweli as an example, and this is a double sided coin; yes the music sounds similar, but also the music sounds similar. And if an album released in 2010 sounds like one released in 1999, why bother listening to the new music? It's not new, it's tired.
Reply

I didn't say that Kweli's consistency was necessarily a good thing...I'm with you; good musicians should be progressive with their music. I'll use Outkast as an example...they first came out on the scene on the whole playas and pimps vibe, then they stepped out the box with ATLiens, then they further experimented with Aquemini and Stankonia, and so on. They stepped out of their comfort zone with each LP and in the process have created a catalog of classic LPs and I definitely appreciate it when emcees step out and try new things, even if it's not widely accepted and appreciated. Another example: Common...he definitely went out on a limb with Electric Circus. Not everyone liked it...personally, I loved that LP...but it was new and different.

In relation to Kweli...it's good that he's still the same lyricist that he's always been. But in that same sense, he hasn't really done much to progress as an artist either. I would say that it's good that he hasn't regressed any, but he could try something a little different...tracks like "Country Cousins" from Eardrum, "In The Midnight Hour" and "So Good" from RPM were good steps in a new direction.

And it wasn't that I completely disliked Tru3 Magic and The New Danger, however they weren't nearly as strong LPs as Black on Both Sides and Ecstatic. I loved joints like "The Boogieman Song", "Close Edge", "Life Is Real", "Blue Black Jack", and "Modern Marvel" from The New Danger and there were a few joints from Magic that I really dug. I know that he was just fulfilling his contract with that album for Geffen, but it wasn't at all bad...not great, but a solid effort.
Reply

haha, and he's following like a billion people too
Reply