Feeling Stressed?
If you haven't noticed, I haven't been posting a ton of stories these past couple of months-- finishing school, having a full-time job, playing on a ton of sports teams, and going out with friends all contribute to that. However, I've recently come to terms with all that and have been able to tell myself that it is NOT my obligation to stay updated with this aspect of my life 24/7, and that it is perfectly okay to take a break.
With stress increasing in everyone's lives, I wanted to cover a couple topics today that I've seen are prevalent within the writing community especially, and my thoughts on them. These are things I've thought about and tried for the past little while, so I figured I would share. This journal may end up going in a hundred different directions at once, but at the end of the day, I just want you to be able to consider that your utmost responsibility should be to yourself-- the community is always still here when you're ready to return, so take things one step at a time, and be patient with yourself. ♥
A Writer's Rights and Responsibilities
Sounds almost like a tongue twister, doesn't it?
Anyway, one of the first things I wanted to talk about is this-- YOU ARE NOT OBLIGATED TO PLEASE ANYONE. And I feel hypocritical saying so, because I try my hardest to please other people sometimes. But in regards to this journal, what I mean is this-- you are NOT obligated to publish something regularly, and you have the right to take breaks!
This is obviously easier said than done, but I personally needed to hear it at some point in my life. You are taking time out of your day to do something you love, and no one should be able to dictate that. Not only that-- you're doing it for free, and on your own time. If you're stuck on a chapter and really want to write something else, go do it. Yes, it can suck when someone has an amazing series but hasn't updated it in a while-- but you don't know what's going on in their life, and I don't think anyone just stops writing a series to spite someone.
Now of course, you shouldn't take your watchers for granted and assume more people should be reading your work just because you published one. That means not holding your stories hostage either-- "I won't publish the next one until I get at least 5 different commenters!"-- and look, I do agree people should show appreciation more because you never know how much it can mean to someone, but doing that is annoying and not the way to go.
That being said, people have no obligation to comment, just as you have no obligation to update even
if
a billion people are commenting.
I think a slight exception to this would be if you're paid to do something-- you can let the customer know you're having a hard time thinking of something to create, but you should strive to finish it in a timely manner and keep them updated. If they're actually paying you to do something and you're supposed to do it-- that's when I think it's fair to ask someone to complete something on time.
Yes, sometimes you should push yourself to finish a story and yes, look to improve your time management if you procrastinate a lot. But at the end of the day, it's your health and your writing-- something you do for fun shouldn't make you stressed, and you should be able to take things at your own pace!
The world will go on without your stories and art, so let yourself relax once in a while instead of overworking yourself. You may even find that in the end, it's more productive to take a break and come back to things with a fresh mind.
Sorry Vs. Thank You - Lessons I've Learned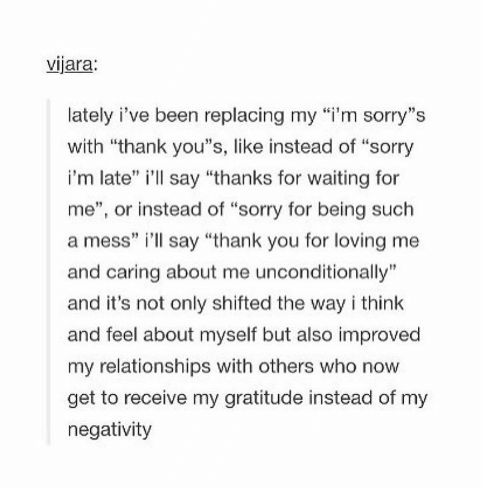 I wanted to share this Tumblr quote I found above, because I feel this has helped me a lot in thinking positively and help me feel better about myself. If you're Canadian like me or just find yourself apologizing a lot, consider this-- after all, there must be times where you're thinking, "why is this person apologizing to me? I know they're doing their best!" So don't you think that at least sometimes, someone is thinking the same about you?
An example on this site specifically could be when someone comments on my profile asking where I've been because they miss me and care about me, and I usually respond with, "I'm so sorry! I've been so busy!", which perpetuates the idea that I have the obligation to be keeping up with everything. Instead, a, "Thanks so much for checking! Just a little busy but I'm working on some stuff" accomplishes the same thing in a positive way.
One more is when I post a fic I'm unsure of, and say something like, "Ugh I'm sorry for this piece of trash lmao and making you read it", which obviously is a bit of a joke, but even if I think my own fic is bad, why make others have that preconceived notion? I also feel like at that point, it looks like I'm fishing for compliments and it can make it awkward for the reader. So instead, I'm trying to go with, "Thanks so much for reading this piece-- I'm trying out some new writing techniques, so let me know what I did well and also how I can improve!"
Obviously, this applies to cases where you don't
have
to apologize. If you've truly wronged someone, this isn't the advice you should be taking, haha. You'll still catch me saying sorry at least 10 times a day, but making this small change is definitely one of my current goals, and I hope I can inspire some of you to try the same!
Some Last Thoughts
Now, one thing I didn't cover much in this journal that was consistent with the theme was the topic of mental health and how it relates to mental illness. This is something I have been having problems with as well, but the topic is so big that I want to cover that in a separate journal(s) and after a bit more thought.
And obligatory... these are my opinions and experiences. What may have worked for me may not work for you, but I just want to get across that forgiving myself for not always updating and learning to say thank you more have both really helped me personally.
What are your favourite ways to de-stress? How have you been trying to improve your self-positivity and love? What do you think of the thoughts and techniques I've shared above? I'd love to hear your answers, so comment or send me a note about this anytime.
Love, Dino. ♥