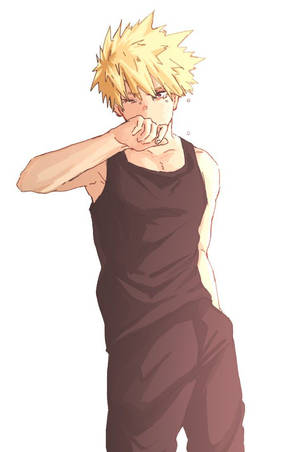 Contest Prize
for:
TheComicGal-Moved
-----
"Stupid school festival. Having to dress up instead of doing something actually damn productive with my time."
Bakugou grumbles, fiddling with the various pieces of cloth that have been thrown at him by the various other males in the dorm.
"Shut up, Bakugou," Kirishima laughs heartily, "we all know you act like a kid every time you watch the Taiko drummers."
Sero pipes in,
"Don't forget when he yelled at the man running the spicy food stall because the food wasn't spicy enough."
"If you don't shut your mouth, I'd be
glad
to shut it for you, Tape Roll."
About half of the boys are wearing monochromed yukata, whereas others have opted for bright, colourful designs (Kirishima
insists
that the flames on his are the most manly of the bunch).
Katsuki is dressed in a jet black yukata himself; it highlights his bright ruby eyes, narrowed in their signature glare.
He catches snippets of conversation between Kaminari and Mineta chattering about all the girls they'll see in their festival garb, rolling his eyes as he thinks,
we're basically wearing the same thing as they are
.
Tugging at his sleeves, he semi-reluctantly follows his classmates out to meet up with everyone at the festival.
Mina and Uraraka lead the pack of excited girls down the aisles of crowded stalls to the main square, where the whole class congregates.
Amidst the glow of lanterns and starlight are hundreds of students socializing amongst themselves, their excitement contagious. The tantalizing smell of fried market food lingers in the air, tempting those nearby to pick up a snack or two to try. The drummers can be heard despite the chitchat of the crowd as festival dancers weave in and out of swarms of people.
The atmosphere is simply enchanting, and even Bakugou himself can't help but get caught up in all of it.
Like tea and honey, the two groups mix until everyone is mingling happily, with smaller groups slowly breaking off to explore the different attractions.
Katsuki makes his way through the crowd, and though he doesn't want to admit it, he knows exactly what-- or rather,
who
-- he's looking for.
She appears in front of him like a bold brushstroke on a painting; sudden and striking.
Her bright red yukata glows like the flame in a lantern, the cloth adorned with silhouettes of white blossoms. Gold flowers trail down her hair, leading to the large obi that ties the outfit together.
He's stunned by her sheer radiance-- after all, while she's nowhere near unappealing in her casual clothes or gym uniform, he's never seen her like
this
.
To say he is speechless is an understatement for him; he's never been caught unable to form a teasing comment or snarky remark. In fact, he's practically breathless, his heart threatening to leap straight out of his chest.
Her eyes are wide and curious, and the fire within them is different than the one she shows while fighting. She's vulnerable and relaxed and warm, yet he feels as if he's the defenceless one.
Ochaco interrupts his thoughts, turning (Y/N)'s attention toward her,
"(Y/N), hurry up! We have to get a good spot for the fireworks!"
She turns back to him, eyes aglow and the most alluring smile on her face.
"Well, Katsuki? Aren't you coming along?"
He nods his head, following without a word.