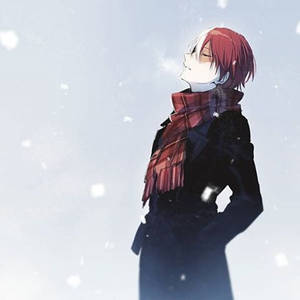 Modern!AU || Spirit!AU
Winter was the only season we could be together.
-----

i. frozen


Your heart drops as you watch the last bus of the night drive away and the battery of your phone drains to nothing in your hand.

The cold nips at your nose as snow continues to pile down all around you. You're on the outskirts of town, and all the shops have closed up. Not a single car is in sight nearby, and a feeling of dread sets in the pit of your stomach. You curse yourself for not taking your friends up on their offer of splitting a cab just because they lived in the other direction and it would've cost more.

Anything would be better than blindly wandering around in the dark, survival instincts on the edge of kicking in.

As you trudge down the sidewalk, which slowly disappears under the fresh powder beneath your feet, the street lamps brighten in your wake as you approach them.

You know you're about to lose feeling in your fingers and toes, and you don't know-- or want to know-- what comes after that.

But as you make your way down the hill, you see a light emanating from a lone brick building in the distance. Hoping that the owner didn't just leave things on overnight, you pick up the pace and jog over to keep warm. You hope it's open for at least long enough to charge your phone and call a cab.

Though the place has leafless ivy branches and crumbling bricks scattered among its walls, it still seems well-maintained with spotless windows and trimmed trees.

The first thing you notice is that someone is in there, their back turned to you as they sweep the floor, so you place your face against the window and bang with your fists, as any civilized person would do.

It doesn't seem to startle him though, and he points at the door, signalling that it's open.

For a second, you hesitate, first noticing his heterochromatic scarlet and white hair. His eyes follow suit, one turquoise and one silver, watching you closely. But something about his slight smile and calm demeanour simply draws you in, and you pull open the unlocked oak door.

The sudden warmth, paired with the comforting scent of cinnamon and oranges, overwhelms your senses as you take in your surroundings.

The room you're in looks like a hotel lobby, but it feels cozier than that. Maroon couches adorned with decorative pillows surround a dark wooden table with a bowl of fruit on top, and sit in front of a crackling stone fireplace. But the place is much too small and understaffed to be a hotel, and there hardly seems to be anyone else here.

You turn your attention back to the strange man, and he asks in a deep yet gentle voice,

"Would you like something to drink?"


ii. thawing

You sit in silence as he prepares a cup of tea with lemon and honey in it for you, watching his every movement as you're still quite on edge and suspicious of the whole situation.

You study his motions and his figure; there's absolutely nothing threatening about him, and that's probably what's making you nervous right now. He brings over the tea, and you eye it carefully while sniffing at it. He seems unfazed, and flashes a shy smile,

"I hope it's to your liking."

You sip the drink, honestly expecting to burn your tongue, but oddly enough, it's the perfect temperature. Didn't he just finish pouring boiling water into it? It's also some of the best tea you've had in your life, so you figure you may as well enjoy it.

You examine your surroundings and finally ask,

"What... exactly is this place?"

He responds almost immediately,

"Just a place to stay warm. I'm here every once in a while in the winter."

"I... I see. And your name is?"

"Todoroki. Please, just call me Shouto."

"(Y/N)."

"It's nice to meet you, (Y/N)."

"... likewise."

You bring the drink to your lips once more, peering over the edge of the rim and watching the man across from you fiddling with the sleeves of his black turtleneck. You're still defrosting yourself, the tips of your toes becoming numb as they regain the feeling within them and produce an uncomfortable tingle.

But the roaring fire does wonders to stop your shivering, and-- you pause. You swear you just saw the fire get bigger, and not like it does when you add more kindling to it. Instead, its edges spread out uniformly and without noise, as if it was being controlled. You shake your head. You're definitely seeing things at this point.

"So, this is some kind of rest stop? Some kind of hotel?"

"I opened it to keep travellers safe. Even though this area is more developed now, I do get someone in every once in a while,"

His voice has gotten a bit quieter, and he stares off a little to the side as he continues,

"But back when there wasn't much around here, someone I knew very well passed away here after getting lost in a particularly bad storm. I'd never wish the same fate upon anyone."

You always seem to struggle with words of consolation, especially because of the slight guilt you feel from assuming he had bad intentions when you entered. But you whisper,

"I'm... I'm so sorry that happened. That's terrible."

"Well, something good has come out of it, at least. I'd like to think that this place has helped a lot of people over the years. And it helps me to show everyone,"

An unexpectedly mischievous grin flashes across his face and takes you by surprise,

"That winter isn't that bad, after all."


iii. melted

You have no idea what he just did to convince you, but you're currently walking arm in arm with the strange man you've just met, on an empty path lined with holly-covered railings and antique street lamps.

For being in such a thin peacoat and scarf, he's unusually warm, but you don't mind, as it gives you an excuse to hold him a little closer.

"Snowflakes are so delicate, don't you think, (Y/N)?"

On his bare fingertip, he catches a perfect flake and brings it to your face for you to examine,

"Why would nature bother making something so intricate only for it to melt away in seconds?"

It disappears slowly, and he breathes out a small cloud,

"I think it's that so when they come together, they form a beautiful picture, even if it's just for a second of our lives."

As he places his hand out, the snow seems to dance around it in synchronized motions, spiralling down to the ground like a ballerina. It seems so unnatural, but you shake off the suspicious feeling again as just being tired.

"I guess we can't have some warmth without a bit of cold, right, Shouto?"

"I think that's the perfect way to look at it, (Y/N)."

You walk with him for what feels like a few minutes, when in reality, it's been nearly an hour before the two of you make your way back to the place and your conversation dwindles.

"The guest room is across the hall from my room. There should be adequate supplies in there should you need--"

"Can... can I sleep in your bed, if it's okay with you?"

The question clearly takes him by surprise, but he smiles and agrees. After putting a comfortable set of pyjamas on, you make your way under the covers and turn on your side to face him.

"Thank you for everything tonight, Shouto. I don't-- I have no idea what I would have done without you."

Without a word, he tilts your chin up so your lips are level with his. Your eyes close, as do his. And slowly, he presses a soft kiss to your lips, as if it's the most natural thing in the universe. You meet his kiss with your own, a shiver rushing through your body and rendering your breathless.

"Good night, (Y/N)."

"Good night, Shouto."

You fall asleep to his warmth and his heartbeat, and it's the most peaceful sleep you've ever had.


iv. numb

You wake in the morning to an empty space in the bed beside you and a brief moment of disappointment, until the unmistakeable scent of pancakes hits you and you rush down like a child on Christmas day.

The disappointment returns as you realize Shouto is nowhere to be found in the house. At the dining table downstairs, you find a stack of fluffy blueberry pancakes with syrup drizzled over them, accompanied by a full place setting,

Your phone is fully charged and you freeze-- you were so caught up in everything last night, you didn't even ask him to charge it. But here it sits, beside a piece of paper with neat, scripted writing on it.

(Y/N),
I've received word of an emergency and don't know how long I'll be gone.
My biggest regret is not being able to say goodbye to you.
Don't worry about locking the door, it should close on its own.
Much love and take care,
Shouto.

You admit that your heart drops at the strange letter, but you don't exactly know what you can do at this point. You eat the breakfast he's made for you, clean it to the best of your ability, pack up your bag, and follow his instructions.

Before you leave, you check around the house one more time. Everything seems so untouched, and even when you do a bit of snooping, you don't find any personal belongings, or honestly, anything proving his existence. In what seems like a futile gesture, you leave your number on a piece of paper for him to find when he gets back. You exit the building, grabbing the doorknob and twisting it shut behind you.

You decide to turn around and take one last look behind you, but then you realize--

the building has completely disappeared.



Considering how far out of town you are, you're the first and only passenger who boards the bus. Your eyes must be wide and your body shaking, because your driver asks you,

"Is everything alright, ma'am?"

"Y-yes. Um, are you familiar with this area by any chance?"

"Been driving it for years, young lady! Ask me anything!"

His friendly nature calms you down a bit, but you still need answers,

"Has that lot always been vacant?"

"Eh? Maybe for the past thirty years or so. Back before everything sprung up here, some kid died in the cold and no one wants to touch the property because of some haunting rumours. Like, 'there's this spirit that controls fire,' or, 'I swear I saw some guy made out of ice'. That kind of thing."

You somehow manage to whisper out a thanks to him before heading toward the back, your eyes brimming with tears and your brain unable to process what's just occurred. You're dizzy and lightheaded, and you stare at the empty land until the bus drives it out of your sight. The fire last night, the falling snow-- were you imagining all that, or no?

It's warm in your bed that night, but you don't get much sleep.


v. reformed

It's been a year since you had visited the mysterious place, and you don't know why you've convinced yourself to come back, as you know this trip is about to end only in disappointment.

The closer you get, the more uneasy you feel. If your experience wasn't real, how were you able to survive during that long, cold night? Are you sure you're even alive at all right now?

The sun is dipping down below the horizon, and it'll be dark soon. There are still plenty of buses to catch, but you feel like you won't be able to leave this place without an answer.

You've arrived expecting the worst, and you've received the worst. The land is still empty, with no sign of life, and no sign of light and warmth.

Tears prick at your eyes as you whisper into the wind,

"Shouto... please. I'm more lost than ever right now."

You blink once.

You blink twice.



And when the familiar ivy-covered, crumbled-brick building returns to view with a light on and a familiar silhouette in the window, you run.

Because even if it's only for one more night, you'll spend it surrounded by his warmth,

and by his love.