Thank you all for being a part of Faulty Apprentice!! We look forward to having your continued support throughout the game development process! patreon.com/dinmoney
---
Traveling Merchant Design Winner: Valkymie
---
Patron's Choice Winner: GlassTrinity
---
Top 5 Finalists
*** Winner will be announced
Sunday 7pm
(pst) ***
by:

by:

by

by

by

Top 3 Patron's Choice
*** Support on Patreon to vote for winner!
patreon.com/dinmoney
***
by

by

by

Honorable Mention
Some entries we would like to highlight.
---
Updates:
Merchant Contest Review stream
will be on Twitch,
Thursday
at
4pm
(pst).
sakuyasworld
and I will be going over all the entries talking about what we think is working and what is not. Great chance to get more in-depth feedback on your entry and/or learn more about designing characters for games.
Twitch Channel:
twitch.tv/dinmoney
Update 2:
One entry will be chosen for new Guard character! Patreon Supporters will vote for who they want to see in the game. So be creative and make your entry stand out!
Update 1:
Faulty Apprentice has officially been Greenlit by the Steam Community! Thank you everyone for the support. Check out the great entries we have so far!
Judging Patron's Choice:
One entry will be chosen by my Patreon supporters to become a new Guard character! Be sure to get creative with the race of your Traveling Merchant!
Dinmoney Patreon:
patreon.com/dinmoney
---
Design a character for Faulty Apprentice!
To promote Faulty Apprentice on Steam Greenlight, AGL Studios is hosting a Character Design Contest!


---
Theme:
The Traveling Merchant!
Better late than never, the Traveling Merchant has finally returned to Stars Reach Castle with much needed food and supplies. At request of the Royal Commander, the Traveling Merchant will set up shop at the castle until war preparations are complete. Who knows where she has been or what she has to sell, but surely your design will say it all!
---
Deadline:
November 30, 2016 Midnight (within 24 hours of this time)
---
Guidelines:
Create a unique character concept inspired by Faulty Apprentice! Submissions should be in form of an illustration, or full body character art. All visual media is welcomed except cosplay, photographs, or moving images.


---
Rules:
1. Must be female character (or look like one?)
2. Must have some kind of trinkets/items/food/animals/etc. for sale.
3. Must be original art created for this contest.
4. Only individuals may enter contest, no collaborations.
5. You may submit more than one entry.
6. Have fun! (Faulty Apprentice is a comedy, so have fun with it!)


---
How to submit:
1.
Entry should be submitted through deviantArt. If you did not submit it through dA, please tag with
#FaultyApprentice
and link your image in comment section of this journal.
2. Must include link to the Faulty Apprentice Steam Greenlight page in artist comments (You do not have to vote YES for us on Steam, but we'd appreciate it if you do! Aaand if we don't get Greenlit on Steam there will be no game to put your characters in XD)
3. Share this contest on social media of your liking with #FaultyApprentice (Twitter, Facebook, Instagram, ArtStation or deviantArt)

4. Tell us about your character. Please include a brief description of who your character is and the idea behind you designing them.


---
Prizes:
Winner
– Your character design may be used in Faulty Apprentice!

Patron's Choice
– Your character design will inspire a new Guard character!
*Chosen by Patreon supporters at:
Patreon.com/dinmoney
---
Judging Winner:
-
Creativity/Originality
(How cool/unique is your character and what they are selling)
- Personality (What is your character like other than her job as merchant)
- Within the world (How well your character fits the world of Faulty Apprentice.)
- Use of theme (First impression, does character look like they have goods for sale.)
*Judging will not be based of quality of art, but readability of design is important.


Judging Patron's Choice:
Support me on Patreon to choose the next Guard of Faulty Apprentice!
Dinmoney Patreon:
patreon.com/dinmoney
---
Entries so far:
Contest Entries Folder
<da:thumb id="648783699"/>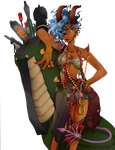 <da:thumb id="648313382"/>
<da:thumb id="648099035"/>
<da:thumb id="645846836"/>
---
Inspiration Material:
Faulty Apprentice Trailer
Play the Demo on Windows or Mac (NSFW version available for donators<3)
Take a tour of the Castle Online now! (No download necessary!)


*Internet connection may affect game speed.

Faulty Apprentice Main Characters:

---
If you have any questions please comment below or contact:

or

. Thank you for checking out our contest! (=