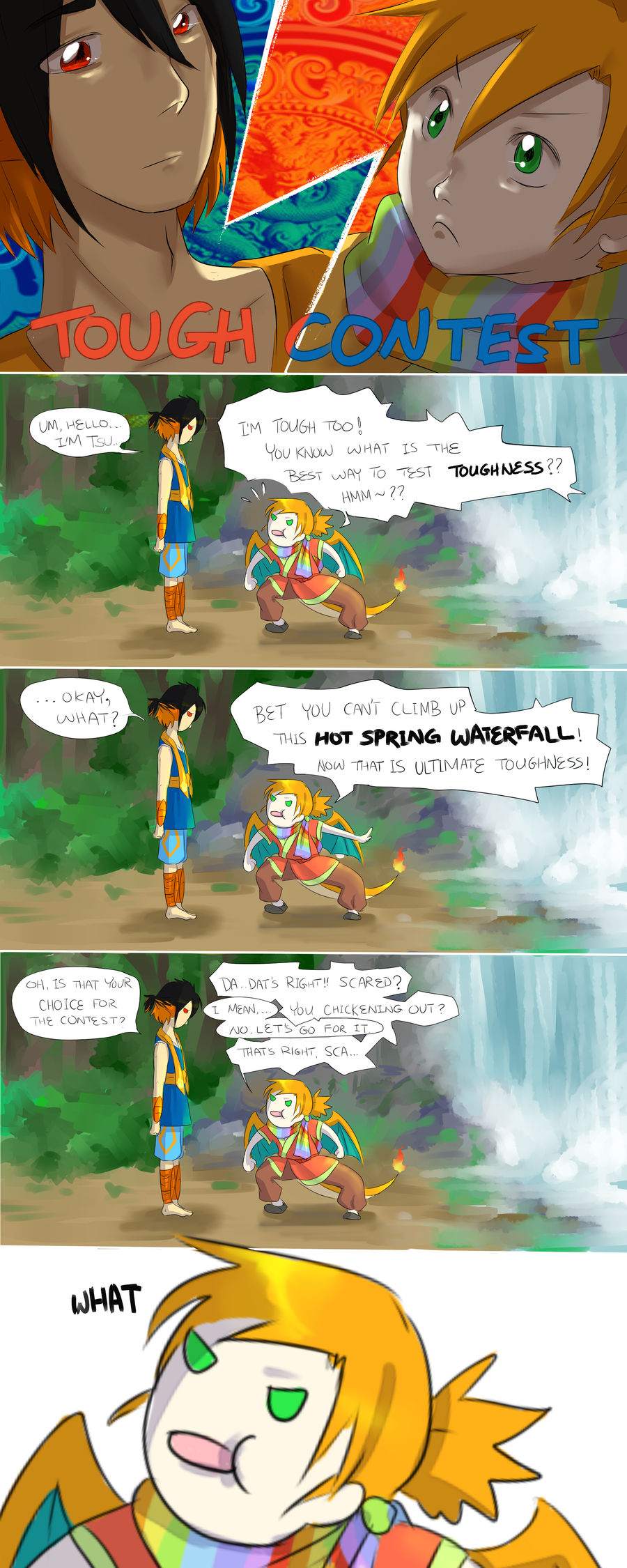 Part 2
---------------------------------------------------------------
I was paired up with
for the second round of

's talent show- tough contest! I found it really funny a fire flying type is pit up against a water ground type xD
----------------------------------------------------------------
Zen was so excited that he got through the first round of the tough contest... this means that, in people's eyes, he's already super tough!!!But after learning that he has to compete one on one against another contestant, he wasn't so confident anymore. But you know what they say (nobody says it), if you talk big, maybe - JUST MAYBE - you can scare your opponent off before the contest even starts!
So, the Charizard puffed up his
skinny and hairless
chest and stomped towards Tsunami.
"Um, Hello... I'm Tsu..." Tsunami was just about to introduce himself when the Charizard boy rudely interrupted him.
"I'M TOUGH TOO!" Zen screamed, I mean yelled, with a lot of manliness at the top of his lungs. "You know what is the best way to test TOUGHNESS!? HMM~~??"
"... Okay, what?" Tsunami sighed.
"Bet you can't climb this HOT SPRING WATERFALL! Now that is ultimate toughness!" After all, nobody would be CRAZY ENOUGH to agree to climbing a waterfall! It's a waterfall! A SCALDING HOT WATERFALL!! Waterfalls are scary enough by themselves, but a HOT ONE???? Ooooooohhhhhhhh super scary. Surely, if Zen proposed such a terrifying task, his opponent would back out?
He was wrong.
Tsunami
Zen

This poor baby, so tough, so sad.

Momoko: ....Good luck you can do it! *secretly starts to plan the funeral*
Reply

Reply

Reply

Reply

XD I oughta get Ameko transferred to this account so I can draw her teasing him or something.
Reply

Reply

Reply

Thanks xDDDD can't wait to see yours too!
Reply

IM LAUGHING SO HARD I SERIOUSLY JUST LOVE THIS SO MUCh.... so good omg
Reply

Reply
i am literally laughing my ass off
at his face
in the last panel
Reply