Monetary donations are also appreciated! :3
I'm a graphic artist at work but I never get a degree of Fine Arts so I can't consider myself a hardcore professional. I post more fanarts than original since the former inspires me to draw a lot.
I'm also a vocaloid user but I primarily used Kiyoteru since he's my personal favorite.

My valid links to other social media sites:
www.youtube.com/user/PrinnyDoo…
www.tumblr.com/blog/orlypep
www.pinterest.com/orlypep/
soundcloud.com/orlypep
twitter.com/OrlyPep
RULES:
1. You can repost my illustrations somewhere in other sites but please disclaim them or give credit instead.
2. I don't do art trades/commission. I may open up a commission for a limited time. If I do, please do not harrass or threathen me because the last time I do it for free with someone traumatized me a lot.
3. Nice comments are appreciated, I don't mind if you thank me for either watch or llama. You can thank me for giving me a llama instead.
4. PLEASE DO NOT BEG FOR POINTS. I don't have much and my life's a struggle already. If you still do, you won't get anything from doing it.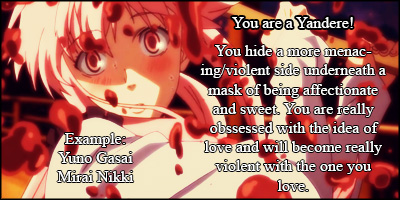 What Type Of Dere Are You?
Hosted By theOtaku.com:
Anime
Favourite Visual Artist
Vincent Van Gogh, Claude Monet, Tenryu Kou (Include the D.A. artists I watched :P )
Favourite Movies
Star Wars series, Back to the Future Series, The Hobbit, The Lord of the Rings Trilogy, too many too mention
Favourite TV Shows
The Stranger Things, Pokemon, and, few anime series
Favourite Bands / Musical Artists
Muse, Vocaloids, Linkin' Park, Bowling for Soup, Rammstein, My Chemical Romance, Johnny Cash, Nat King Cole
Favourite Books
Tale of the Two Cities, The Little Match Girl, Les Miserables, Nancy Drew Series, Oliver Twist, Harry Potter series
Favourite Writers
Charles Dickens, Roald Dahl
Favourite Games
There are many but I prefer RPG, Horror, Mystery, Adventure, and Action genres.
Favourite Gaming Platform
Playstation consoles, 3DS, PC games
Tools of the Trade
Pencil, Paper, Graphic Tablet, Computer, Poetry and Song Writing
Other Interests
Astronomy, Most of Art Production, Japanese Music, World History, Science, Steampunk