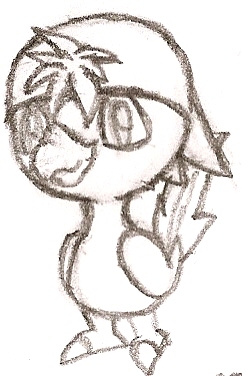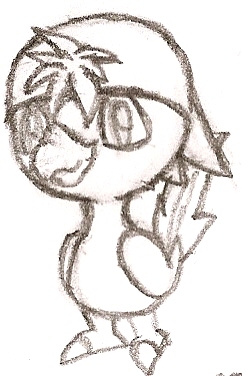 Punkrow (Punk and misspelling of crow)
Rude Pokemon
Type: Dark/Flying
Height: 9 inches
Weight: 2.3 pounds
Flavor Text: It lacks respect for other creatures. Trainers raising this pokemon need plenty of patience if they want Punkrow to do anything, as it hates hard work and would rather slack off all responsibility. If one manages to get a Punkrow going, the effort pays off well, as Punkrow are very intelligent Pokemon capable of scheming complex plans.
Ability: Insomnia/Super Luck
Gender Percentage: Male: 50% Female: 50%
Evolution: Punkrow--(Happiness at night)-->Murkrow--(Dark Stone)-->Honchkrow
Obtain by breeding Murkrow or Honchkrow with Ornery Incense.

Punkrow is mine.

Pokemon is Nintendo's.

omnomnom. this is the second baby murkrow idea i've seen, and so, it is official: i am going to make one of my own : DDD i will keep this tucked in my faves for now... mwahahaha...

Reply

Punkrow is awesome.

And I still love "Ornery Incense" as the name of an item.

Reply

If you've played Team Fortress 2, it has a nature similar to the Scout's personality. I'm not sure if you'd know about that though, TF2 is just my current drug. 8D
Reply


Cool concept. Must be awful training, but worth it in the long run.
Reply

heheh... its 'cap' looks pretty great

great design

Reply

Haha that's such a great idea for a Pokemon XD Cool design too~
Reply

Reply