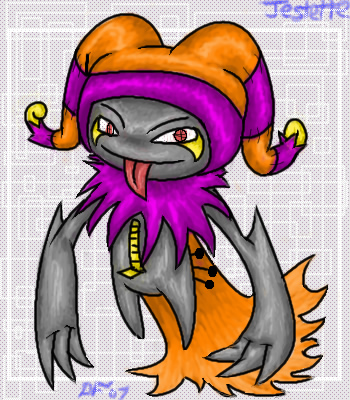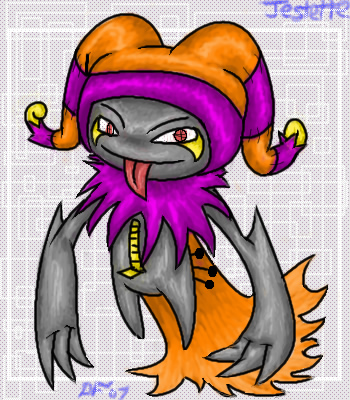 I haven't finished Jestette's flavor text yet. And its number in the 100 is currently undecided.
??? JESTETTE
Type: Ghost/Sound
Height: 4'10"
Weight: 34 lbs
Flavor Text: Said to be the spirit of a dead court jester reincarnated as a Pokemon. It attracts curious prey by twitching the bell-like parts on its head, making a soft jingling sound. It will then stun the prey with either its claws or its piercing shriek. If you hear maniac laughing in the night, it is probably a Jestette's freakish cry.
Evolution: Shuppet -> Banette -> Jestette
Evolve Banette by attaching Spirit World Bell and trading
I was reading Hamlet for school and I was at the Yorick monolouge when I thought of the idea for Jestette. So if I could have a Jestette, I'd call it Yorick. ;D
Jestette belongs to me. >


Best Banette Evo I've ever seen. X3

*adds*
Reply

Cool, I'm reading Hamlet too! Nice concept!
Reply

Reply

I WANT ONE. <333 Though to me it look more like a secondary choice evolution to Shuppet. |D;;; I love the idea though, I adoreeee the hat! <3 He's cute! 8D
Reply