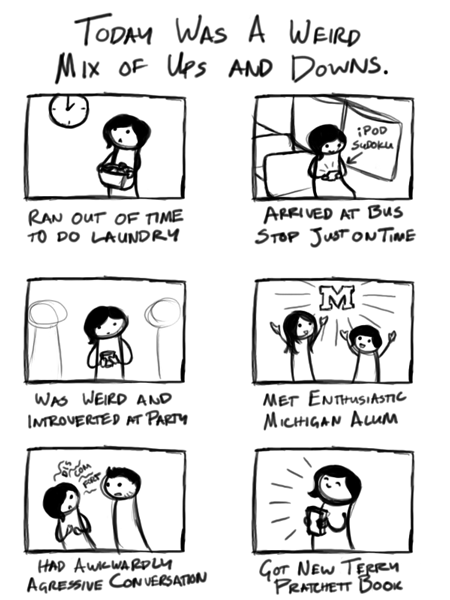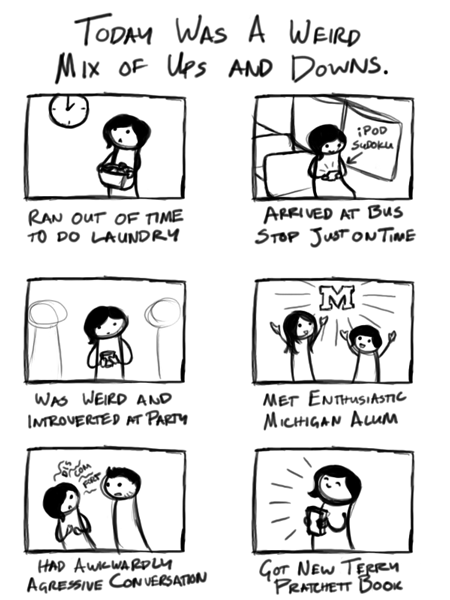 Watch
I know I haven't been posting a whole lot; just started at U Chicago, which means that when I get time to do art it's almost exclusively client work (which I don't usually post) and non-illustration stuff.
And weirdly enough, I actually have a social life. This is unprecedented, and may account for my increasing awkwardness and introversion. Apparently my system is getting overloaded.
Anyway, have a quick comic about nothing in particular.

Terry Pratchett! Dude's the friggin' man.

This strip seems to imply that introversion is something that happens to a person, which I find interesting from a amateur social psychology sort of view. The more I think about it, I think it's actually largely a choice.
Reply

Sorry, that's not really how I meant it to come across; actually, pretty much all the bad things that happened are 100% my fault, particularly the laundry bit.
Reply

Haha I didn't mean to get you down, just thinking aloud. Heck, I miss the ferry pretty much every other morning.

Sometimes I think it would be nice to be naturally extroverted... but then I'm sure those 'life of the party' types have it just as hard.
Reply