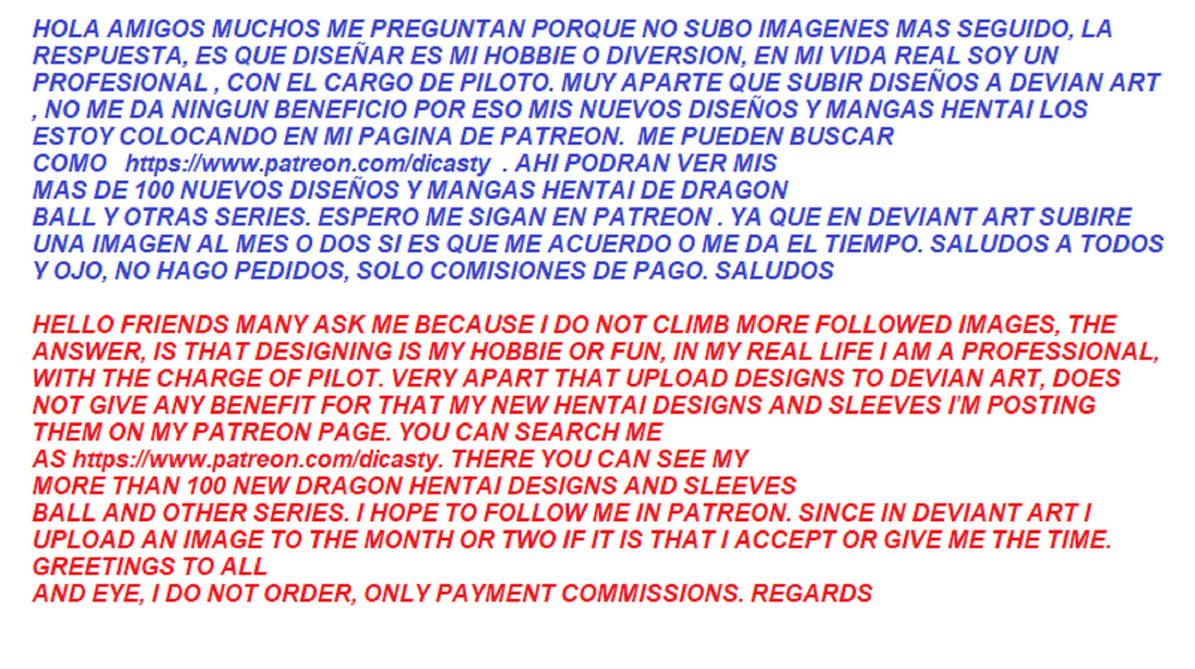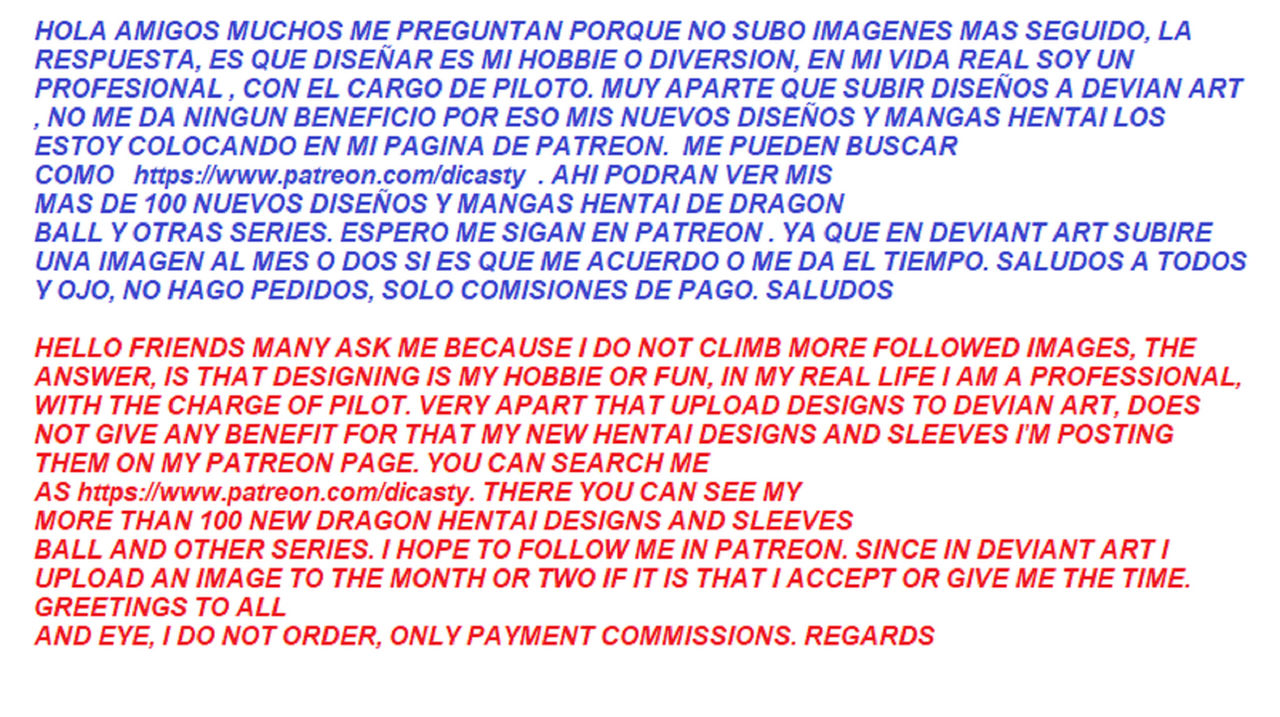 Watch

You do commissions? Are you currently open? What are your rates?
Reply

Hello, could you post prices for your works or how to pay you (pay pal et cet)? Also, a stutus when you are available for taking commissions? I'm pretty sure many people would commission you even on DA, but it's a bit hard to find your conditions regarding this, and I think this is essential for getting more money from what you do.
Reply

Eres piloto de conductor o piloto de otra cosa? Ojala pudiese donarte, la verdad es que se te da muy bien dibujar, un saludo, buen dia/noche.
Reply

busca ENAMM en google te saldra la escuela donde estudie 5 años , para volverme piloto de barcos mercantes. saludos.
Reply

Piloto y pidiendo donaciones XD ?? Jjajajajajjajajajajjajaa
tu trabajas vendiendo hamburguesas en un Mc donald bro
Reply

las personas que me conocen , saben lo profesional que soy en mi vida real, el auto que manejo, la casa que tengo , los pisos que alquilo, y el negocio aparte que tengo. es mi culpa trabajar siete meses al año y poder descansar 5 gracias a mi sueldo ???? es mi culpa haber estudiado 5 años en la ENAMM y ganar mas de 5k al mes cuando estoy en mi profesión ??? es mi culpa ser bueno diseñando y que sea mi hobbie ?? es mi culpa ser habil y ganar dinero extra con cualquier cosa que haga ??? jamas eh pedido donaciones , solo pido que me sigan, que es diferente a estar diciendo apoyen con dinero."es mi culpa tener haters como tu , gente fracasada en su vida que envidia todo de una persona superior a ti ???? te pareces a un hater llamado neos , un pobre negro de ecuador , que solo sabe vivir del fracaso . lastima haz algo mejor por tu vida man. o algo mejor, trabaja en un mcdonald ya que sabes mucho de eso. en vez de estar aquí soltado tu arena o gana algo de watchers, si quieres te regalo unos cuantos.
Reply

Bueno solo espero que por favor no te olvides de tus seguidores pobres que aun que no tengamos dinero para apoyarte, te apoyamos siendo fieles estando pendiente a ti si siempre dando me gusta y compartiendo todas tus obras de artes. a mi no me importa esperar si espero por mas calidad jeje solo no te olvides de nosotros





Reply