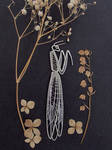 Today I received my third Daily Deviation, for the Mantis Religiosa Brooch, one of my newest pieces!

The brooch is part of the Arthropodae collection (
jewelry series created in order to accompany the clothing collection of a fashion designer, Carla Put, the title of her colelction being "Dreamcatcher"
).
You can see the whole collection here on deviantart,
diana-irimie.deviantart.com/ga…
,
or on my facebook page (there you can also see the clothing collection):

www.facebook.com/diana.irimie.…
Thank you so much
pinkythepink
for the feature!