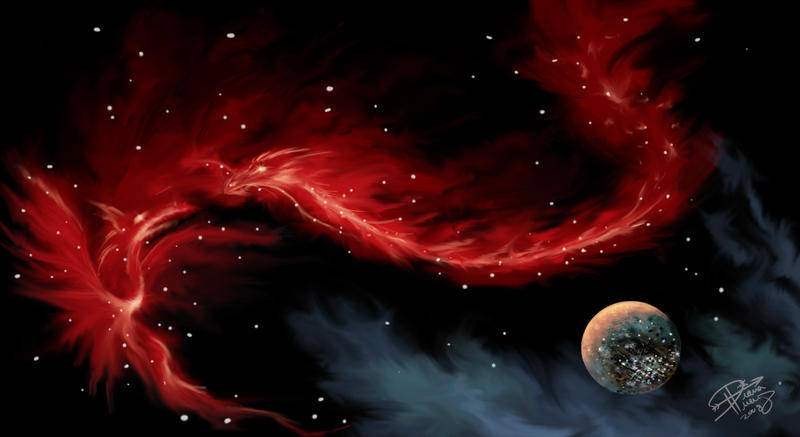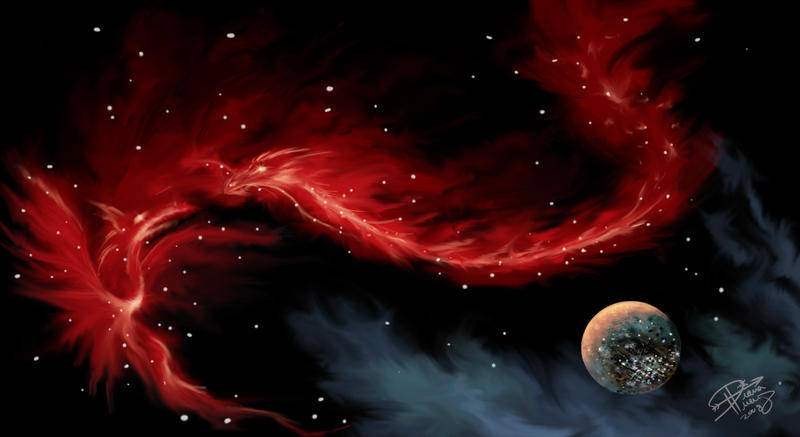 Watch
A cosmic dance with a planet caught in the middle.
I was thinking of the Nexus from Star Trek: Generations movie... a trap of the mind...empty joys and a destroyer of worlds.
The Nexus reminds me of the Stevie Wonder song "Ribbon in the Sky". I really love that song: "There's a ribbon in the sky... RIBBON IN THE SKY-E-AY!!!! A ribbon in the sky... for our la-ooove."

He's so smooth like that!
A painting of mixed feelings.
Took about an hour... just finished.
Cosmic Chinese Dragons Series:
Chinese Dragons... In our culture we have a different relationship with dragons than in the Western/Judeo-Christian cultures. They are never seen as evil. They are powerful benevolent rulers of fate and fortune.
They control the wind and water... they wriggle through the earth and push up hills and mountains for us. A place with moving water and undulating land is good feng(wind) shui(water)... the forces of nature. So of course we love and respect dragons... we respect nature and the good things it brings us.

very nice color affect

Reply

Owowow.... This is very amazing


Reply

This is so cool! I love it!

Reply

Lovely; it's quite an epic yet beautiful piece.
Reply

This one looks beautiful. Even though that what is happening with the planet looks scary.
Reply

So is standing in the path of an on coming brush fire... been there. They put it out before it got close to our house but that was a heart pounding moment. Got to see a water dropping helicopter super super close and appreciate the quantity of water they can hold.
Reply

Btw., I just realized one of the dragons look western-type, one eastern-type. Great touch!
Reply

Tell me about scary, I'm not normally scared of fire, but when I saw a burning ridge - from quite afar, from safety - it was enough.
Reply

Reply