San Diego Comic Con 2013 plans!!
2 Favourites
11 Comments
49K Views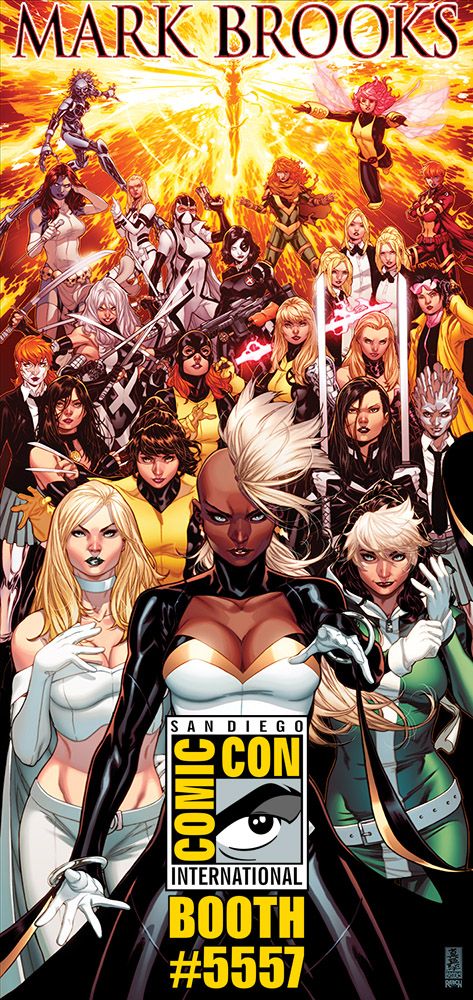 I'll be in San Diego for Comic Con International in a few days and I hope any of the fine member of DA that are attending will drop by and say hello! I will be in booth #5557 in Hall F and we have a ton of stuff planned including new prints, how-tos and panels! Here's a list of stuff you can find at my booth as well as a schedule of panels and signings!
PRINTS- I will have a ton of all new prints and lithographs including the oversized X-Women print you see above(17"X38"). I will also have a brand new type of print that are in 3-D!(no special glasses required)
ARTBOOKS- I will have copies of my hardback artbook GROUNDWORKS so if you haven't gotten your copy yet here's your chance!
COMMISSION SKETCHES – He will take a short list on Thursday and then cherry pick off the list. Commissions will be $400 for a full body, pencil, ink and grey scale piece. 
We are really excited and looking forward to seeing some of you at BOOTH #5557! Let me know if you have any questions. And for more regular updates on what's happening – please follow both me and my lovely wife on twitter for updates throughout the show @MarkBrooksArt and @BrideOfDiablo. 
PANELS:
THURSDAY, July 18
10:00 – 11:00 MARVEL: Breaking into Comics the Marvel Way
Room 7AB
FRIDAY, July 19
2:30-4:30 Comic-Con How-To: Dynamic Marker Rendering for Comics with Mark Brooks (moderated by 
Lisa Kwon
) ***Bring your grey Copic markers! Mark will walk you through his marker techniques. At the end of the session, we'll give away a few art books and his demonstration art. No copics? No worries! Come anyway. All skill levels and curious spectators are welcome. a Q&A will also take place covering anything comic related. 
Room 2
SIGNING AT THE MARVEL BOOTH – Signing comics and quick free head sketches since I will NOT be doing free sketches at my booth, so this is your best opportunity to get one. Go early to make sure you get a spot!
• Thursday – 5 to 6pm
• Friday – 12 to 1pm
• Saturday – 12 to 1 pm
Happy SDCC!!!