4 Favourites
11 Comments
105K Views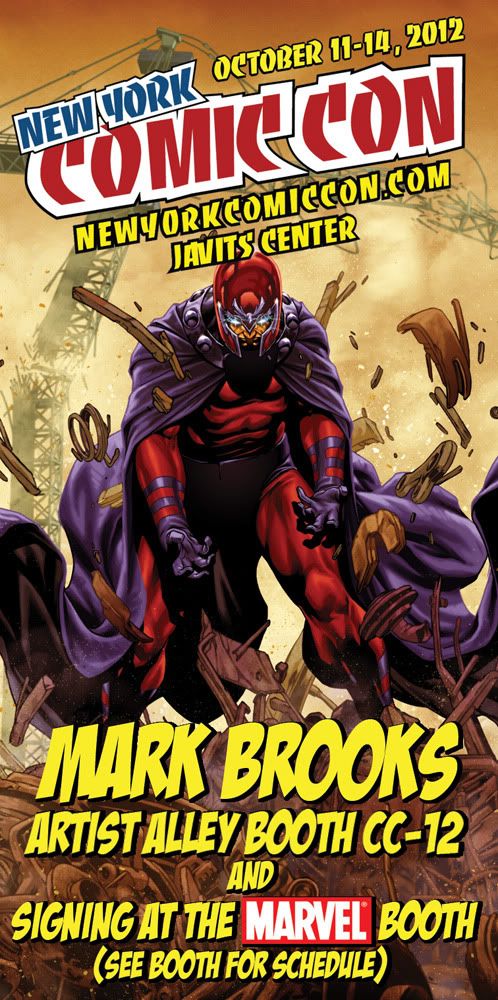 New York Comic Con is mere days away and I hope you will come out and join 60,000 of your closest friends for a weekend of Comics, movies, animation, toys, and pop culture! We have tons of stuff planned this year including my new artbook GROUNDWORKS:The Marvel Art of MARK BROOKS as well as a ton of new prints and lithographs. Here's a complete list of what you can expect:
ORIGINAL ART - including some recent covers for X-Men Legacy, Uncanny Avengers, Avengers vs. X-Men and many more plus interiors from his run on Uncanny X-Force as well as a portfolio of older art with reduced pricing.
NEW ART BOOK – Groundworks – The Marvel Art of Mark Brooks. INCLUDES LIMITED NYCC EDITION BOOKPLATE. This is a beautiful hard back, full color autographed book for $25.  Get more details at this link:
diablo2003.deviantart.com/jour…
The artbook can also be ordered if you are not able to attend the show by simply e-mailing markbrooksart@msn.com with the subject "GROUNDWORKS"
NEW PRINTS & LITHOGRAPHS – Check out these gorgeous 13x19" prints each $20, click link to see an image:
·         Red Phoenix, Green Phoenix and *exclusive limited run of 50 White Phoenix* The Red and Green are $20 each and for sale individually, but the white variant is ONLY available if you purchase both red and                green for total package price of $50. Pick up a package before they sell out!  
fav.me/d55fq71
·         Battle Rogue
fav.me/d4ggo1m
·         X-Men Legacy cover – no image is available, but it's GREAT!
·         X-Men Legacy – Msr. Marvel
fav.me/d50pqz4
·         Additional lithos: Queen of Hearts, DC Sirens, Baroness, Black Cat, and oversized Thor art print ($30)
COMMISSION SKETCHES – He will take a short list on Thursday and then cherry pick off the list.  Commissions will be $400 for a full body, pencil, ink and grey scale piece.
We are really excited and looking forward to seeing some of you at ARTIST ALLEY TABLE CC-12!  Let me know if you have any questions.  And for more regular updates on what's happening – please follow both me and my lovely wife on twitter for updates throughout the show @MarkBrooksArt and @BrideOfDiablo.