here are some random stuff about me:
if you have any questions for me just comment or send me a notes, whatever, like I always say i'm like an open book, but for some reason my middle name is scratched out so it's hard to read it (what I mean is I won't tell anyone my middle name except for some people)
I like anime and I love music. I like all types of music so if anyone knows a good song should tell me. I usually draw random things, mostly anime, and I know I'm not the best artist. most of my drawings aren't original they are mostly from Google since I can't draw out of my imagination and you will know if it is because those drawings would be the worst.
About deviantart, if you ask me to join your or any group I will always join.
Find me on my tumblr page:
cyntric.tumblr.com/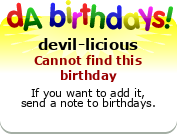 if you know any good anime's to watch you should tell me (I also know more but I've only read the manga like fairy tail and soul eater, and haven't watch them yet):
-naruto (shippuden)...............................-bleach...................-shugo chara
-vampire knight(guilty)...........................-tokyo mew mew.....-inuyasha
-black butler (all 3 seasons)................... -wolf rain................-tsubasa
-katekyo hitman reborn .........................-DN angel...............-fruits basket
-code geass: Lelouch of the rebellion (R2)-elemental gelade....-Steins; gate
-clannad (after story)............................ -nabari no ou..........-black cat
-tengen toppa gurren lagann...................-kaze no stigma.......-future diary
-ouran high school host club....................-durarara!!(x2).......-durarara!!x2ten
-fullmetal alchemist (brotherhood)...........-karneval...............-durarara!!x2 ketsu
-5 centimeters per second......................-Blue exorcist..........-noragami (Aragoto)
-attack on titans....................................-death note.............-angel beats
-kyoukai no Kanata...............................-sword art online(II).-Psycho pass (II)
-Kamisama No Inai Nichiyoubi.................-My little Monster.....-tokyo ghoul (II)
-Gekkan Shoujo Nozaki-kun...................-Charlotte...............-death parade (death billards)
-The Devil is a part-timer........................-No game no life......-K (return of kings)
-fate/stay night: ultimate blade works......-fate/zero...............-hotarubi no mori e
-One punch man...................................-d.gray man (hallow).-No. 6
-Boku Dake ga Inai Machi.......................-Zankyou no terror....-Akame ga kill
-Amagii Brilliant park..............................-wolf childern...........-elfen lied
-Assassination classroom (II)...................-Mayoiga.................-sakamoto desu ga
-Bungou stray dogs.................................-baccano
Anime I'm watching: Kiznavier