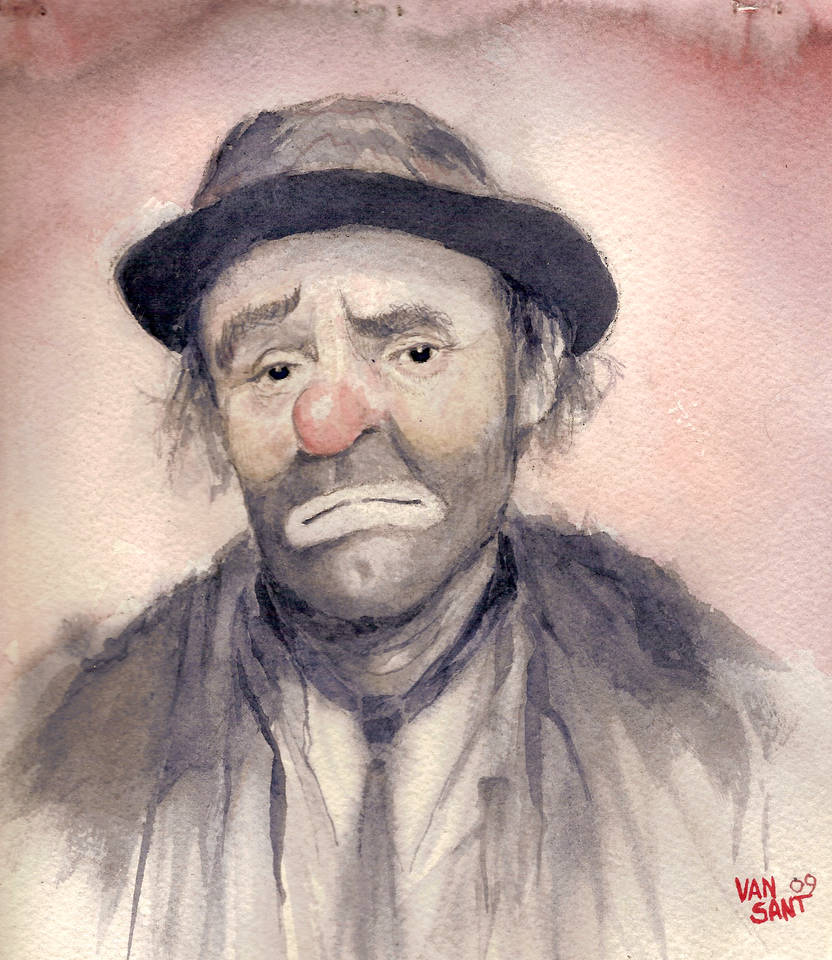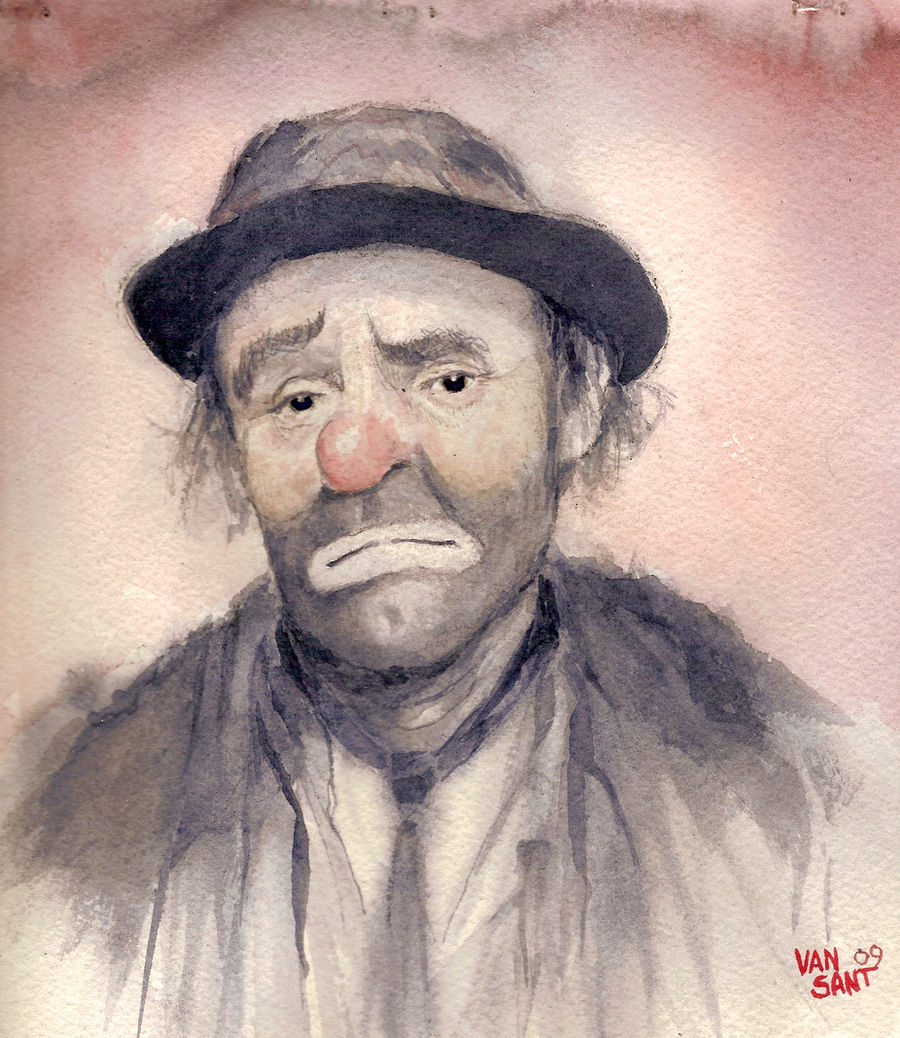 Watch
This is one of the easiest paintings I've ever done.
Took a half hour.
It was fun.
Emmett Kelly as "Weary Willie"
~Watercolor on arches 9X12"~


Born in 1898 Emmett Kelly joined the circus at a young age, and started painting circus wagons. Later he became a self-taught trapeze artist, which led him into doubling as a circus clown.

He worked in a number of circuses in Europe, and the U.S., eventually working for Ringling Brothers, performing his own one man show until 1956.

He was a mime, an actor on Broadway, worked with director Frederico Fellini, wrote his autobiography "Clown," was the Brooklyn Dodgers mascot for one year. Then, he worked for the Shrine Circus, making personal appearances worldwide.
He died in of a heart attack in March of 1978.~


This is so good!
It reminds me that I would enjoy owning one of Red Skelton's clown drawings. I've loved Red since I was teeny. Dear sweet man. I miss him.

My ex got to meet him, by chance, in KMart sometime in the 70s when Red was in the area, buying tvs for the children's hospital. They said hello, my ex asked if he was indeed Red, he said yes, they exchanged a few words, my ex said something about his wife (me) was one of Red's biggest fans, Red just smiled and said thanks, and they parted ways. Had it been me, I wouldn't have said a word to Red, and tried not to stare, and stayed out of his way for his sake, and then left, not knowing one way or other if I'd actually seen one of my favorite clowns.

Reply

I know what you mean about the clown paintings/drawings. My dad did a clown series and thats what inspired me to do one of Emmett.
As for approaching Red.....hard to say...it WOULD be tempting wouldn't it.....to say something that is.....showing respect does have its merits tho....and is the way to go I think....
Reply

If it wasn't that stars are constantly swamped by fans, if it were someone less in the limelight, someone who might actually appreciate being approached with a casual, pleasant, compliment, then I might go that far.

I must remember sometime to try to draw a clown. Maybe Red himself as clown. I rather enjoy the clown face. I don't have clown phobia. How does that get generated, I wonder? Besides the current horror movies?
Reply

lol Clown School? It was nice seeing Red's face again. What I'd love to have are dvd's of his tv program. And all his movies. But that gets costly.
Reply

all I remember about the show was at the end he said ...."Good night and may God Bless"...
Reply

Yeah, that was his trademark goodbye. I loved his face. It was so cute, so sweet, his sense of humor silly like mine. Though he could go overboard a bit much, as could Jerry Lewis, Robin Williams... but not as much as Jim Carrey which is too much for me. Same with Don Rickles. Though I loved him in the beach blanket movie era, he was really cute. He's still funny, but guess I like my comedians a bit less caustic. Don is only joking I know, but he comes across so serious it's scary.

Reply

Wonderful work with watercolours - something Ive never yet used would you believe!

Again like someone said earlier Im not one for clowns, but I love this piece, real emotion in there - which I wouldn't normally associate with watercolour.
Reply

yeah it does look like a quick one.. but simplicity is sometimes the best when it comes to expressionism :-D this is great
Reply

Lovely, soft feel to match the soft, sad expression.
Reply

Do you remember Hobo Kelly?
Reply

Thank God I don't. Was he 100 years ago? But I'm familiar with the image.
Reply

WOOW
This is amazing!
I really dislike clowns actually BUT I like this one!!
Excellent work Mike! You rock with dark colors btw

Reply