'Once again, Hula Girl saves the day!!'
'I swear you are a Quicksand magnet,…'
'Quicksand, huh? I thought it was just 'a little mud'?'
'I,.. ….'

*Scowl* 'Didn't you promise me a lava bath earlier?'
'Yeah, that sounds pretty good right now,…'
----
Previous: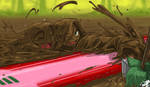 Next:
----
The August Patreon picture from

brings the muddy ordeal of Ember and Hula Girl nearly to a close,… with the girl emerged from the muddy quicksand and floating on Ember's surfboard, seemingly safe and on the way to finally getting out of this 'little mud.'

.


So after all that tension drama, and cliffhanging, it's good to see the girls finally getting out, albeit in desperate need of a bath at this point. The mud coating on the two of them is just spectacular, so thick and gooey and oozy, as it clings to their lovely curves, showing off their forms quite well beneath it. I love that even covered in mud like that it is easy to tell who is who,… from the wider hips on Hula Girl, to the slightly bigger chest smooshed under Ember, to Ember signature hair tips curling out,… then having Ember holding her hair flower and Hula Girl her spear simply confirms it. And their expressions here are just great, when I saw those the dialogue above just sprang to mind, I hope others think it fits as well. The muddy quicksand bog around them continues to look magnificent and treacherous, I love the darkened churned up portions behind them to show their path through the muck, and just the expanse of the mire all around them, quite impressive. I really like how Ember's surfboard ended up being their means of escape,… it's almost like it was planned that way by someone.

.


Things seemed to have calmed down, but this series isn't over just yet. Stay tuned and find out what happens next.

.


Yet another beautiful picture in this amazing series. Thank you very much, ShoNuff.



What do you think?




Artwork by, Hula Girl and Coconut Island belong to


ShoNuff44's Patreon: www.patreon.com/SHONUFF44
Ember belongs to

Please do not copy, use, reuse, repost, or redistribute without permission, thanks.
Image details
Image size
2783x1626px 916.33 KB