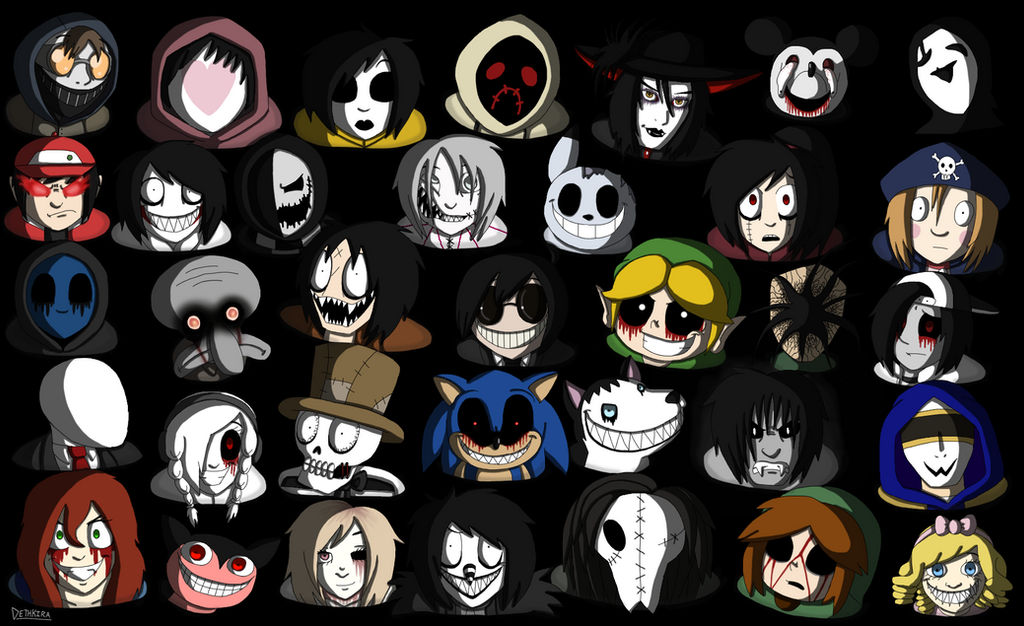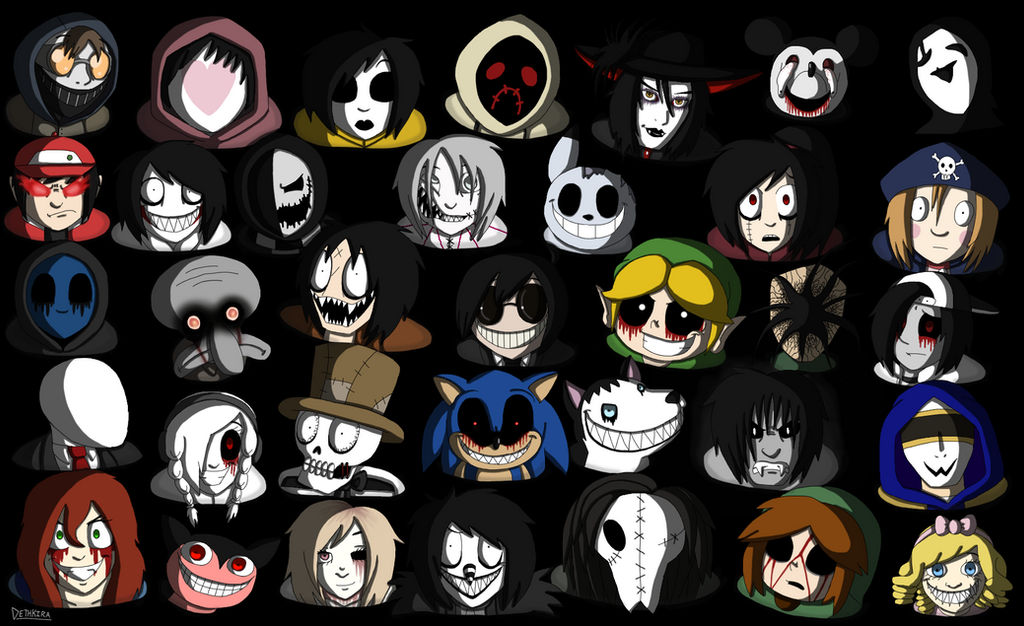 Watch
Alternate title: "We've Come For Yer Daughter Chuck".
I originally had asked people to name me their favourite creepypastas/OCs and I compiled a list of 91 choices. I somehow managed to get it down to 35 for this drawing. It took me a couple days. Holy moly. I had to eliminate a few popular pastas as you can probably see by a lack of certain ones.
I decided to add my new creepypasta OC into this, his name is Benjamin. He's the little scarecrow guy with tentacles coming out of his face. In short he's the oddball of his civilization as he only has one eye and everyone else has two, and he has a smile as everyone else is expressionless. Whenever he feels disregarded or scared tentacles come out of his face and eat everyone's innards. The story made sense to me at like 2:00 AM so... I dunno. I may use him again but I'm not sure. He seems too cliche.
If you are unsure of who is who feel free to ask and I'll help point you to the pastas/creators. c:
FIRST ROW:
- Ticci-Toby (
Kastoway
)
- Heartful Lou (
SlothChief
)
- Masky (Marble Hornets)
- Hoodie (Marble Hornets)
- Marquis (RavenSuspiria)
- Suicide Mouse
- UBOA (Yume Nikki)
SECOND ROW:
- Glitchy Red
- Jeff the Killer
- Kagekao (
GingaAkam
)
- Kaida (
kittyocat
)
- Pikachu (Snow on Mt. Silver)
- Annie (
SpainXRomanoPlz
)
- Pirate Percy (Candle Cove)
THIRD ROW:
- Eyeless Jack
- Squidward's Suicide
- Reggie (
Dethkira
)
- The Grinner (
VonderDevil
)
- BEN DROWNED
- Benjamin (
Dethkira
)
- Lost Silver
FOURTH ROW:
- Slenderman
- Ivy (
Greeny-Star
)
- The Skin-Taker (Candle Cove)
- Sonic.exe
- Smile Dog
- Subject C (Quinine)
- Graffiti (
UmmuVonNadia
)
FIFTH ROW:
- Syndrome (
iRkaid
)
- Grinny (
Comickit
)
- Suicide Sadie (
corgi-moon-pies
)
- Laughing Jack (
SnuffBomb
)
- The Seedeater (Through the Trees)
- Thomas (Zelda.exe)
- Aurora (
UnderAbigailsRose
)