Okay, I'm having computer problems so excuse me while I insert a guide to the problems.
Meet the Computers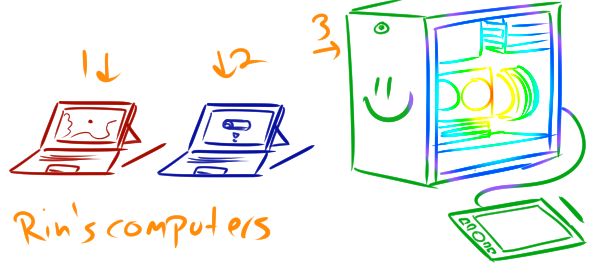 (Red (screen is a nightmare) Blue (can't charge anymore) and Green (bangarang desktop with a broke ass chair))
Computer 2 is sleeping the long sleep, so I'm back to Computer 1, which has dead pixels
g a l o r e
so that's fun. But if I can get a new computer chair I can switch to Computer 3 when Computer 1 inevitably sleeps the long sleep from the same faulty update that killed computer 2. Luckily I was able to save my WIPs with seconds to spare, so I can keep working on the shitty Computer 1 in the meantime.
Uh... That's confusing.
I'll call the computers Red, Blue, and Green.
Red and Blue are Surface 3s, Green is a badass bombass gaming rig I got, my love of which trashed my computer chair. The 1309 Windows 10 update on Monday killed Surface 3 charging because oopsie proprietary charging drivers are stupid af and
who's idea was this
? So Blue died peacefully in it's sleep overnight the other night. Both of my Surface 3s currently have intermittent charging, but Blue charges about 5% of the time and Red charges about 80% of the time. Red also has a really bad screen, dead pixels everywhere and discoloration everywhere from heat issues it has. I try not to get stuck doing art on it, but here we are. So Red is sitting at 62% (53% after drawing the computers) charge after charging all day and Blue is sitting at probably around 9% charge after charging all day and night. Green is peachy keen happy as a dang clam with every light on the planet on inside the case shining like the dang sun, so no worries there! I mean, except that the chair is ruined and I can't sit there.
Green uses a Wacom Graphire 4 and Adobe, where my Surfaces use Platinum Surface pens and Clip Studio Pro.
On top of that, my sweet angelic biological sister left me a message on Facebook Messenger.
My gender and sexuality are perversion, she thinks it's abhorrent that I'm constantly shoving it in her face, she could get along with me fine if I would stop bringing it up because she never talks about anyone else's gender (she added, I have two brothers and neither of them are you) she doesn't want me to ever mention it in front of her or her children, and in general she thinks it's sick and I'm attacking her.
Because, at the end of a long message about how wonderful I think it is that she's keeping track of the family records and I'm so grateful to have her in my life, I added "I'm so glad to be your brother."
Two days of silence followed, and this morning I woke up to six paragraphs of the above.
All of this came up because she has photos of my biological mother and wanted to know if she should keep them for me, since she has the lion's share of the family photos, but she knows how badly I was abused by my biological mother (who, no, is not my sister's mother), so she wanted to know if it was worth hanging onto them if I would never want them. Because my biological mother just died.
And in case you've missed my other posts, I got a bladder infection at her funeral from holding my urine for about ten hours a day a few days I was there, because it was in a bathroom bill state and I sure ain't breaking the law after my mom just died from her treatment in jail there. Nah nah nah.
AND I had surgery on Monday, because obviously surgeries are best timed around complete meltdowns, right?
So to recap, all of my computers are having trouble of some type, be it hardware (a chair) or software (faulty drivers), my mother just died, I have a bladder infection and still have an autoimmune disease, and apparently my sister hates me for being trans. So no parents yet live, 3/4 siblings still love me (but I haven't come out to my little brother yet), I'm sick as a dog, and I'm recovering from surgery.
Quick reminder: