As you know, Malice and I have created two CYBER COSPLAYS, Hatsune Mike and Black Rock Shooter.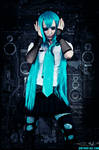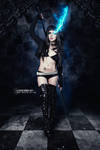 For the next one (or maybe more) I want to see what my fans want to see.
Do you have any suggestions? Suggestions that will help make it happen:
- A character that is somewhat well known.
- Character is already cute or has some sex appeal (unless you can prove it can be sexy)
- Ability to find good references, so Malice can construct the outfit.
- Character isn't something crazy like
- Don't just list out 100 cosplays, come pick one SOLID one.
Leave a comment, request, a demand... haha. If you suggest it FIRST, and we do the photo. I'll mail you a 12x18 poster of it. For free, shipping paid, signed if you want.
No deadlines or anything, just lay it out.