Resume:
Professional freelancer.
Media: Digital Art
Specializing in: Fantasy, Dark Fantasy, Gothic.
Previous and current note worthy work: Leviathan: The story of Hellraiser 1-2 (DVD) (Colorist)
You're so cool Brewster: The story of Fright Night. (DVD) (Colorist)
245 Trioxin: The Story of The Return of the Living Dead (Book) (Colorist)
Card illustrations for Warring Kingdom and Warring Kingdoms Expansion pack and CRA Limited and CRA Limited Expansion pack. Guys In Space web comic (Penciler/inker) Illustrator for Author Lily Alex.
Film career:
www.imdb.com/name/nm6240553/?r…
I've also done thousands of private commissions for Lets players, authors, RPGs, game design, graphics, logos and tattoos.
Support the weekly stories by buying merchandise here!
www.etsy.com/listing/125716988…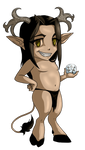 :thumb389048625:

Crossover story by me and

destinyfall.deviantart.com/fav…
MY FACEBOOK:
www.facebook.com/gameorgoth
MY BLOG:
destinyfall.tumblr.com/
MY PHOTOGRAPHY BLOG
naturesharmony.tumblr.com/
Mael's fan club

Fan page made by awesome friends :3

Fan page made by awesome friend :3
Favourite Visual Artist
Yoshitaka amano
Favourite Movies
Cabin in the woods, Priest, Dracula untold, Sinister, How to train your dragon, Dragonheart, Sleepy hollow, Alien (all 4), Predator (all), AVP,
Favourite TV Shows
Ultimate fighter, Ghost Adventures, Dead Files, Destination Truth
Favourite Bands / Musical Artists
Edguy, Journey, Hammerfall, Slipknot, Stone Sour, Within Temptation, Lady GaGa, Evanescence
Favourite Books
The Witcher, Vampire Hunter D, Carpathian series, After Dark series and more of this nature XD
Favourite Writers
Hideyuki Kikuchi (Vampire hunter D) MistressKurumi, Lady Kakata, Rivi, Captain Savvy, random paranormal porn writers
Favourite Games
SKYRIM, Doom 3, Silent Hill series, Assassin's creed, Metroid, FF 7, Dirge of cerberus, The Legacy of Kain series, Castlevania series, Amnesia dark decent
Favourite Gaming Platform
Gamecube, Ps2, Comp
Tools of the Trade
PS Elements, , Paint Tool Sai, Word, sparklies
Other Interests
Video games, movie collecting, rock collecting, gardening, landscaping, interior design, bird watching, hiking, meditating, The gods