Hello all!


The holiday season is upon us I am getting lots of emails about my steampunk Christmas ornaments, the Santa and Gingerbread Man. I am sorry to say I will not be making any this year (again). As some of you know, my life took a very different turn last year. I (happily) left behind a 20 year marriage. While my life is far better now (and I have no complaints ), I am taking my time of getting my 'self' back....the damage didn't happen overnight and the healing won't either. While I'd like to be a creative work horse right now, I am letting it happen in it's own due course, not trying to force anything. So, as much as the extra money would rock, I am not currently making anything....hopefully soon!

I still have quite a few things in my online shop @ shop.desertrubble.com/handcraf… including a steampunk octopus, a nautilus, a flashdrive, a dragon's eye, and a couple of dragon wings.....and quite a few other odds and ends. I have stopped posting items in my etsy and artfire shops because with a full time job, keeping my dog entertained, and rebuilding my life, I simply don't have the time to maintain more than one shop. My online shop is entirely secure and I use the same credit card processor used on artfire as well as paypal, so it's completely safe.
On a lighter note, my dog, Boozer, and I have started hiking, something I would have always liked to do but did not because my ex had knee issues and I wouldn't have gone by myself. Now I do it for myself

It is helping me with my goal to get healthier in all aspects, but Boozer is pretty lazy and I am beginning to think he will only be good for short hikes lol We did the Hieroglyphic Trail at the Superstition Mtns on Thanksgiving day and I think it about killed him, 2 days later and he is still recovering. We were having record highs that day and I made him carry water in his pack, so he did not have it terribly easy

He was packless on the way back out, though, I'm not a total slave master.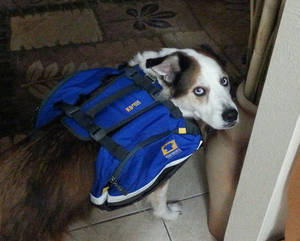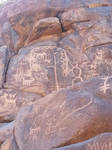 You can see he was not happy the first time he tried on his pack! The other pic is why they call it hieroglyphic trail

He did surprisingly well getting in and out of the canyon the glyphs are in, I guess 4 legs are an advantage there. It would have been far easier on me had I not had to hold his leash and worry about him, but it was fun.
So that's what I'm up to, pretty much taking it day by day, but I see so much improvement in my overall attitude, confidence, and self esteem, and that's what's important right now. Thankyou for stopping by and I wish you all a Merry Christmas and a safe and wonderful holiday season

Lynn