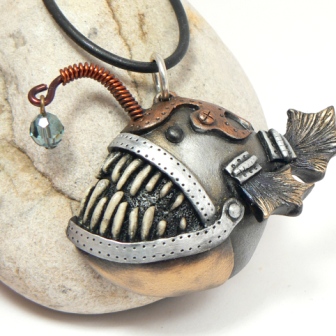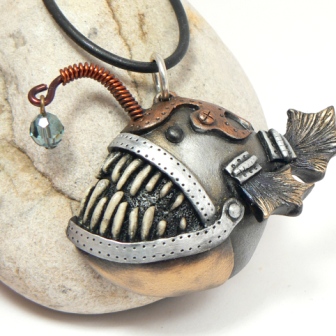 Watch
Steampunk angler fish pendant from polymer clay with a wire and swarovski crystal 'lure'. Highlighted in metallic pastes and powders.
In my shop-
[link]

Reply

Do you still produce these? I want to purchase one!
Reply

I replied on your other comment, but I'll say it here as well in case someone else is curious

I do not have any right now and also do not have time to make more at the moment either. I will post photos when I have more made though!
Thanks!
Reply

awesome work

Reply

This is great! I'd love it even more if the lure glowed, though...
Reply

Yeah, that would be cool wouldn't it?!
Reply

Nice

Reply

Reply

they are, I'm using the Fixit because I want to make sure they were strong. The teeth were made ahead of the rest of it, not in situ. Sticky stuff

Reply

I love this, glad I stumbled upon your art 8D
Reply

Reply