Hey everyone!
I wanted to share this amazing project with all of you. If you love beautiful traditional animation, please watch this!
It's almost down to its last week and is currently sitting at 95% Funded on Kickstarter. Here is the direct link:
www.bit.ly/kickstartsmoshmosh


I have been collaborating with the creator Janina for the Kickstarter Campaign. I have created two original works of character art that will be offered to backers: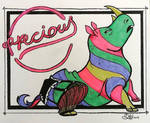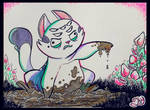 Janina, and her Smosh Mosh Team would definitely appreciate you spreading the word, and if you can, contribute to the campaign.

PLUG: Also, it is my hope that if they can get the ball rolling on this, I may be able to contribute a little bit to this project as a remote animator, but we need the funding to make it happen! So it's very personal to me too!
Thanks for checking it out / sharing / doing what y'all do.
LOVE YEW.