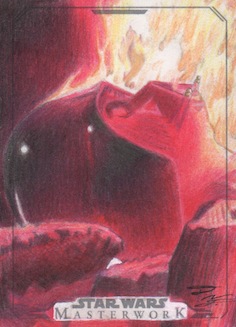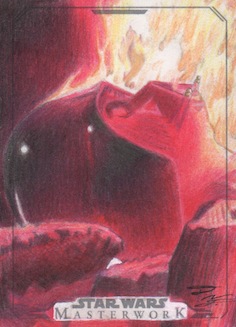 Watch
Darth Vader 4
Star Wars Masterwork
This 1/1 Original Sketch Card is 2.5"x3.5".
Done in Ink and Colored Pencil.
This series was released by Topps / Lucasfilm on 2.11.2015.

Topps Star Wars



Note: This is the 1st time ever Star Wars Sketch Cards are done on 72-pt heavyweight premium stock. There will be Variant sketch cards as well. Featuring rare alternate logo's and even Wood sketch cards.




For this set Denae did a total of 56 Sketch Cards . 48 Silver (42 for the set and 6 that are her Artist Return Cards), 5 Gold (logo variant) and only 3 Wood (Very Rare).


Follow Denae on:

DenaeFrazierStudios
denaes_art/
rad_artand/or
And most of all, Thank you for all your support on Denae's art!