HEEELLLLOOOO everybody... I'm aliiiive *A*


happy second advent to everyone ♥♥♥
My publisher EMA / EGMONT will open every day a little door from their Christmas Calendar on www.manganet.de ♥

And I got the permission to draw 6 exclusive christmas wallpaper from Camio.
The first of six Wallpaper was behind the 8th door.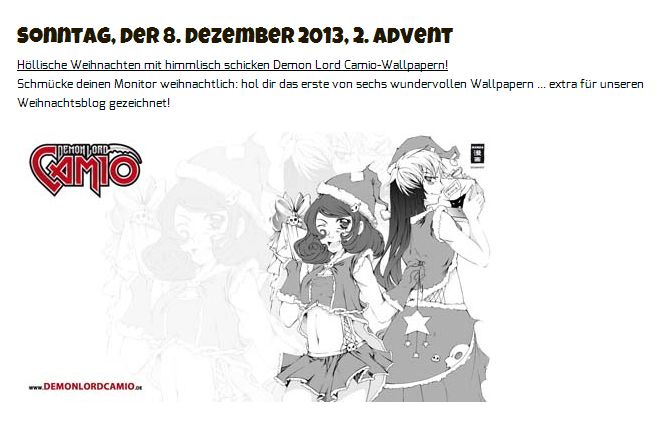 click here to get the free Demon Lord Camio Wallpaper ♥


---
So what is "Demon Lord Camio"?


Demon Lord Camio is my new Manga I had worked on during the last month with my boyfriend after I had finished my latest serie "Grimoire" with 4 Volumes. ♥♥♥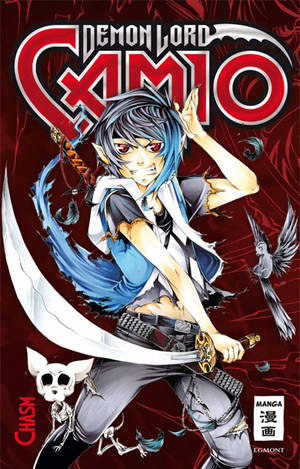 description:

Demon alarm in Berlin! The twitchy demon lord Camio illegally gains access to the human world. He seeks a grandmaster of demon conjuring who can help him to free his brother Belial from hell's prison Antenora. Unfortunately the the little slob sets actions into motion that threaten the entire cosmic order. So heaven and hell send their delegates to hunt down Camio and his compagnions...
the manga Demon Lord Camio by my boyfriend and me, published by Egmont Manga in March 2014 in Germany.

weekly webcomic: www.demonlordcamio.com
Camio onTwitter! - twitter.com/LordCamio

Forum:
Camio's Forum ♥
(a lot of wips of Camio and some funny discussions with other members and Camio himself

)
_________________________________________________________________
Preview:
► vereinzelte Seiten
► company preview: "Shinkan Herbst 2014" pdf-page "41"

ORDER:
AMAZON

Please note: So far only a German version of Demon Lord Camio has been announced. If you want to read the manga in your own language, feel free to suggest it to your local publishers for licensing! And now have a good time!

Welche Kurse gibst du an der Berliner Volkshochschule?!? *gespannt auf die Antwort* Es ist so cool, dass du hier wieder mehr hoch lädst