Chaos is the best there is, because you have fun without no end ~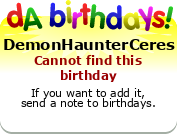 Ships:
SpilditxZordrak
Hank PymxJanet van Dyne
ShredderxKrang
Dr.DoomxWanda Maximoff(Scarlet Witch)
Red-SkullxCaptain America
RottixNathan
LuigixNathan
PavixBlind Mag
GraverobberxShilo
Hody JonesxZeo
VDDxShizu(OC)
Ceasar CrownxMonet
MoriahxPerona
BruleexDiesel
KrebsxBurgdorf(Downfall Parodies)
...
Current Projects i am working on and maybe even someday will finish them:
The Revenge(Fanfiction)(cancelled)
Various Comics
Current Residence: A town called Nürnberg ~
deviantWEAR sizing preference: 38 :/
Print preference: nothing
Favourite genre of music: Classic, Goth, Hard Rock.
Favourite style of art: Digital
MP3 player of choice: Emotional OST of all times
Skin of choice: White, blue like a shark or something like that.
Favourite cartoon character: Shredder, Krang, Zordrak, Lemongrab, Prinz Fiesepeter, Shendu usw.
Favourite Horror Character: Leatherface and his Family the Sawyers ~ To a lesser extent also Jigsaw and Michael Myers.
Favourite other movie characters: The Largo Family of Repo!the genetic opera
Personal Quote: Oh really?
Favourite Visual Artist
Original Art and Digital Art is the best
Favourite Movies
TexasChainsaw3D, Nightmare on Elmstreet, Repo!the genetic opera
Favourite TV Shows
Scrubs,Extreme Dinosaurs, Wunschpunsch, Der Traumstein
Favourite Bands / Musical Artists
Enomine, Nightwish, Rammstein(only a few songs), Unheilig, Die Roten Rosen etc.
Favourite Books
Horror Books and Fantasy Novels
Favourite Writers
Stephen King, J.K Rowling
Favourite Games
Pretty much all Pkmn games as well DBZ Games, Sims4
Favourite Gaming Platform
3DS, PS3
Tools of the Trade
Paint tool sai FTW <3
Other Interests
Music, coming up with lame comics nobody wants to read, day-dreaming, drawing etc.