About me:
My first favorite color is purple / violet and second is green.
I love watching YouTube and my favorite channels. (Jacksepticeye, Markiplier, Cryaotic and others)
I like writing stories, but not in English ... I'm sorry.

I'm from Czech Republic.
I love spending time with my friends.
Ok... I think that's it!
Se ya in a next time!
Love drawing about:

theyamiclaxia.deviantart.com/

theyamiclaxia.deviantart.com/
Fan:
aisaka123.deviantart.com/
buttonsmakerv2.deviantart.com/
eclipsabutterfly.deviantart.co…
Love other things:
sequelle.deviantart.com/
:thumb631478637:
kristik--gold.deviantart.com/
level of language...
theflagandanthemguy.deviantart…





www.deviantart.com/enjoumou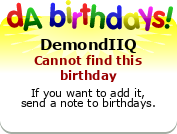 Favourite Movies
It, Orphan, etc. (horror, psychologic, fantasy, scifi...)
Favourite TV Shows
Vampire diaries, Once Upon a Time, Stargate atlantis or other Stargate, Doctor who, Teen wolf, STRANGER THINGS,...
Favourite Bands / Musical Artists
Slza, Twenty one pilots, Panic! at the Disco, Set It Off, Three Days Grece, ...
Favourite Books
Doctor who, Divergent, Insurgent, Allegiant, Four, Pretty girl- 13, The Crucifix Killer, The Night Stalker, The Caller,...
Favourite Writers
Chris Carter
Favourite Games
The sims 3 or other games with friends
Favourite Gaming Platform
Computer
Other Interests
Writing some shitty stories!