Journal Entry:
Thu Aug 27, 2015, 2:06 PM
So a good friend of mine on FB informed me
...Someone has taken a picture of Kira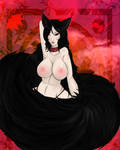 and made an F-LIST PROFILE (not as Kira and false information about her. How insulting amirite?)
For those not in the dark reaches of the internet it's an adult RP website. List yo characters kinks n stuff...
-
Currently having it taken down. </s>
JUST SO YOU GUYS KNOW
...
I DO.NOT.ROLE.PLAY
....especially not vore. NO I'M NOT GONNA LINK IT.
I used to on Furcadia and may pick it up again casually...and by casually I mean as often as a leapyear occurs
IF YOU SEE ART OF MY CHARACTERS BEING USED PLACES THAT AREN'T LISTED ON MY PROFILE PAGE... LEMME KNOW :3
On one hand. Character & art theft is never fucking cool and I will rip this bitch a new asshole and fornicate it with a cactus. Kira's my oldest existing character and I have worked fucking hard on her >:I
Oooon the other hand
MY ART AND KIRA IS POPULAR ENOUGH FOR POSERS TO FUCKIN STEAL.
I HAVE HIT THE BIG TIME!
So, assface. I appreciate the "advertisement" but if you're so hellbent on RPing my character, how about not misrepresenting them? 8)
By the way google searching the image will lead back to me... sooo.
THE IMAGE HAS BEEN REMOVED. BIG THANKS TO THE F-LIST MODS FOR THEIR SPEEDY RESPONSE TIME. THANK YOU <3
-----------------
BEFORE YOU LEAVE MAKE SURE TO CHECK OUT MY CHARACTER CONTEST.

CONTEST OVER - JUDGING STARTS SOONTHIS CONTEST IS NOW CLOSED.
NO MORE ENTRIES WILL BE ACCEPTED.
BIG THANKS TO ALL WHO PARTICIPATED
Judging will occur in the near future. Once decided winner will have 48 hours to respond or its forfeit.
-
OTHER PRIZE(S)
The grandprize winner will receive a free fullbody 'commission' from me of whatever (within reason)
and if I can manage to search my clusterfuck of folders I'll send you the brushes & patterns I use with MS5 also... maybe.
You will also get one of your own OC's featured in a picture with one of mine of your choice

DON'T FORGET I'M HAVING A SUMMER WING-IT COMMISSION SALE TOO
AND BE SURE TO ASK THE CHARACTERS SOME QUESTIONS. OPERATORS ARE STANDING BY!


Watch

Reply

Congratulations!
A Winner Is You!
Reply

well that sucks.
But I am glade it got taken care of then... right?
Reply

Mhmm. Yeah I dropped the fuckin hammer 8)
Reply

LOL the F-ing one?
hahaha
how have you been?
Reply

Exactly. Tho it seems I wasn't the only one thefted by this fuckwaffle.
I'm good~ sunburnt but good 8)
Reply

Lol waffle XD I hope that said person gets what's coming to him/her

ooohhhh well, if you go to a beach?
I hope it's not too sever.
Reply

Your icon says you mean business.

Reply

Reply

Funny how art theft is a sign of popularity now.
Reply

Reply

You know, this makes me wonder how often this happens. I'm glad you were notified and managed to get it taken care of.
Reply

Ikr? I guess the profile has been up 3 years... and the picture is roughly 3 years old now (jeez). So some twat waffle has been using my image of Kira for 3 years? Bitch better pay up.
Hope F-List removes the art in a timely manner. If not I plan to launch the DMCA nuke... I may do that anyway. Cause I'm not nice enough to be patient.
Not sure how it was found. But someone found it, recognized the character as mine and informed my friend to tell me. They didn't come to me directly because... I'm apparently scary.
Reply