This is the dA site page for
Del-Borovic
's online comic: DELVE Into Fantasy! Viewable here or on the offical comic website:
DelveIntoFantasy.com
The comic is updated every
Sunday & Wednesday
on the above website. It's updated a few times a month in
5-page blocks
here on the DELVE group page!
---
If you haven't read the comic before on dA,
you can start at the beginning here: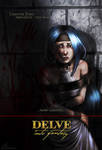 ---


The DELVEcomic dA group now LIVES!!

The Gallery Folders include:
Main Comic- The official DELVE comic pages, in reverse chronological order.
Official Extras- Extra comic-related pieces, side-stories, and canon guest comics.
Official Final Art- Official finished illustrations for DELVE by Del.
Fan Art- For finished Fan-art pieces by anyone who'd like to submit!
Fan Fun- for anything Delve-related you'd like to submit- Sketches, doodles, memes, etc~!

You may join us by becoming a member and contributing to our teeny but growing club! As a member you can submit your own posts to the fan galleries! Whoever you are, feel free to join in on or start discussions on Devs, Journals, the main page, or wherever you see fit! And, as always, if there's anything you'd like to see from this group- feel free to chat up our Mods!

So join us and have at it!