I had a bit of free time last week, so I made a portrait of my childhood's hero for fun. I may make some more of Thundercats in the future.
That's my own version, I hope you like it. Hooooooooooo!
Here's a link to Cheetara: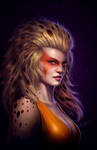 Painted in Photoshop.
Thanks for viewing!
Image details
Image size
900x1400px 161.27 KB