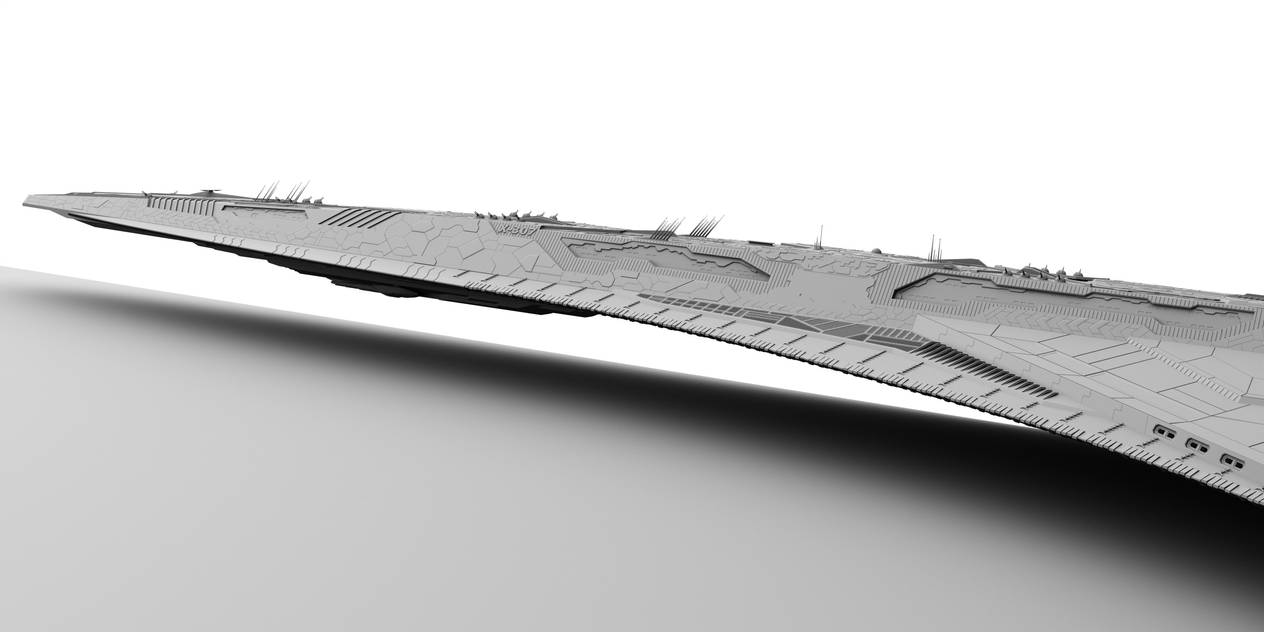 months since i worked on this, it's kinda finished, just smashed on a few thigns and duplicated them, duplicate duplicate duplicate duplicate duplicate duplicate...

She s beautiful

Reply

MOAR DETAIL!!!!

anyway so textures and lighting?
oh btw can i has it and texture and light it? purdy PLEEAAAASE??? 0.0 <--- puppy dog eyes...

looks good man!
Reply

Noo way no no no no! If you get your hands on it you're probably going to do a decent job at texturing and lighting, and then i will probably copy it since, well, it's hard to get a good solution out of the head and instead make something original if you understand what i mean

I'm going to try to make something in cinema4d, i can't import this thing into layout, it automaticly change position of each mesh object and it is so difficult to move them together

Reply

ooh ok

...
naw its cool man! how about this then you texture light and play with it first then say in 6months i can play with it?

ok i HATE c4d myself but you know that

and wth they change place? are you kidding me? wth have you done to it?
dont tell me youve made items then moved and compied the items....
also you need to stop building on the Y axix and build on the x-z as normal people

anyway looking forward to seeing what more you can come up with texture and lighting wise

Reply

Well... I may have moved some of them, and rotated etc. And i have been swapping geometry between all of them and all sorts of interaction, i take it that the object center isn't exportet between the programs? Hmmm, that sounds like alot of work to fix, but it is fixable

And no, definitively not, i don't care if it is the accepted international standard that the y-axis points upward, it's wrong! Through matematics, i have been used to xy diagrams on the table and therefore the z axis were always the height. Oh and six months seems like an accurate prediction good sir.

Reply

see there is your problem.. see items (layers in generally accepted cg terminology) are not suposed to be moved roted etc in place on an object as as youve discovered on export they snap back to the item/layers 0 point hence mesh parts must be placed within the item/layer itself so they all have the same 0 point on the xyz, but like you said its "fixable"
as for Yxz settings they can be changed and even snapped to surfce angles if need be so its an easy fix but an unnecesary step and i know some of my clients would have my arse if i did that with my comissions as i just make extra work for em.
and yeah 6months was good wasnt it?

anyway like i said looking forward to textures and lights!!
Reply

Well, good news everyone! My mind is ready for expansion, meaning i'm willing to learn lightwave, it only took probably a year! Now, it going to be difficult to light this bitch, since space is dark and that, Icarus II style lighting is probably what I'm going for here, started working on that ship too btw

Reply

cool man cool!
im glad to hear that you are willing to give lightwave that final go!
if you need any assistance and you probanly will just hit me up either here or elsewhere and ill answer and help you anyway i can.

best way would be if you had yahoo or msn messenger...

and icarus II from sunshine? cool have you seen Scotts rebuild? he has posted pics on here but his thread on foundation 3d has more and imo its looking brilliant!
Reply

Just one thing, do you know of any page containing all the hotkeys for lightwave? That's pretty much all i need to get started

And yes sunshine. And yes scotts model is truly brilliant. The big challenge here will be the lack of orthographic reference, i'm terrible when it comes to eye measurements

And no i only use skype i'm afraid
Reply
(1 Reply)

I like the design but personally I think that there is too much detail.
I love the overall shape and the concept is beautiful.
Reply

Isn't that the modus operandi of a 3d modeler? lol
Reply