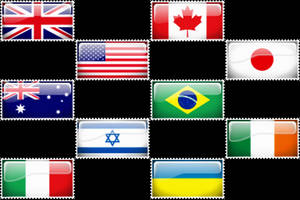 COUNTRY FLAG STAMP COLLECTION
Show your support/allegiance to a country by proudly flying the flag on DeviantART.
---

Description
ive always wanted to do this but never had the time and info to do it. but the other day i was checking my site's analytics and learned that i have thousands of visits already from more than 100 countries. so i downloaded the list decided to work on flags based on it.
design is basically based from wikipedia and apple store. the list of countries is based on the analytics. if im wrong about a flag or i forgot a country, just let me know.
Also on Icon Archive -
[link]
Edit:
Now has 200 flags.
For some reason I cannot change the downloadable file. A lot has change here in DA. I can only upload the zip file via the Premium Content section which would mean you have to pay points to download them.
For now you can get the PNG files here at Mediafire for free (6.8MB) -
[link]
Image size
800x600px 211.86 KB