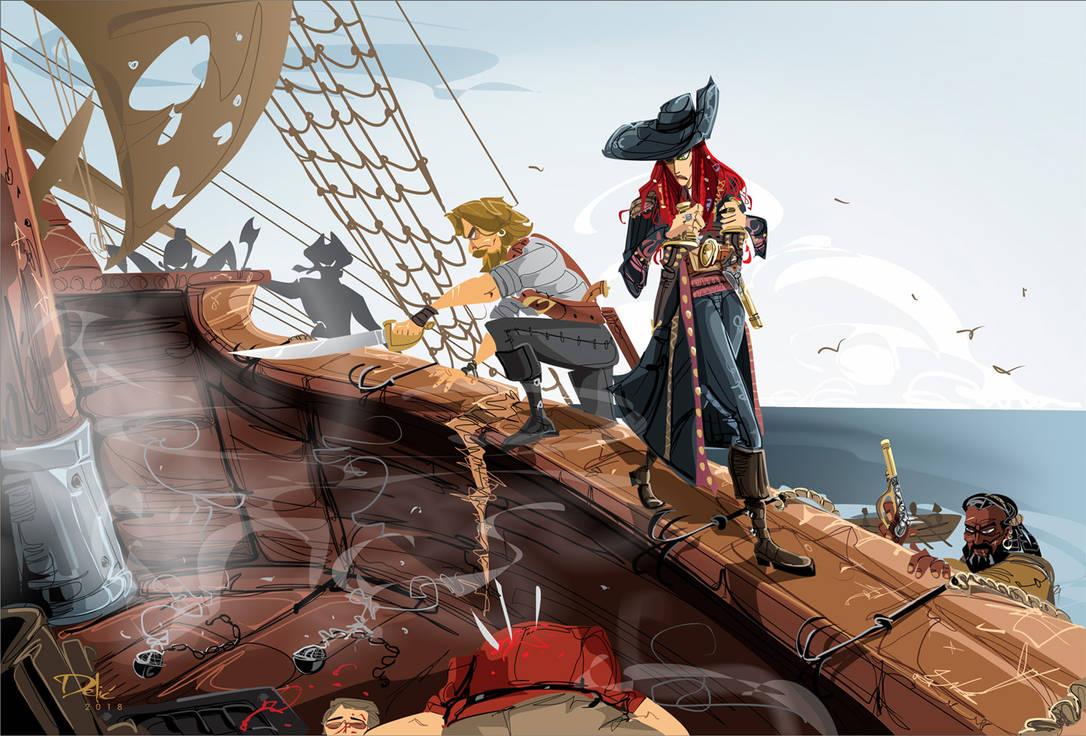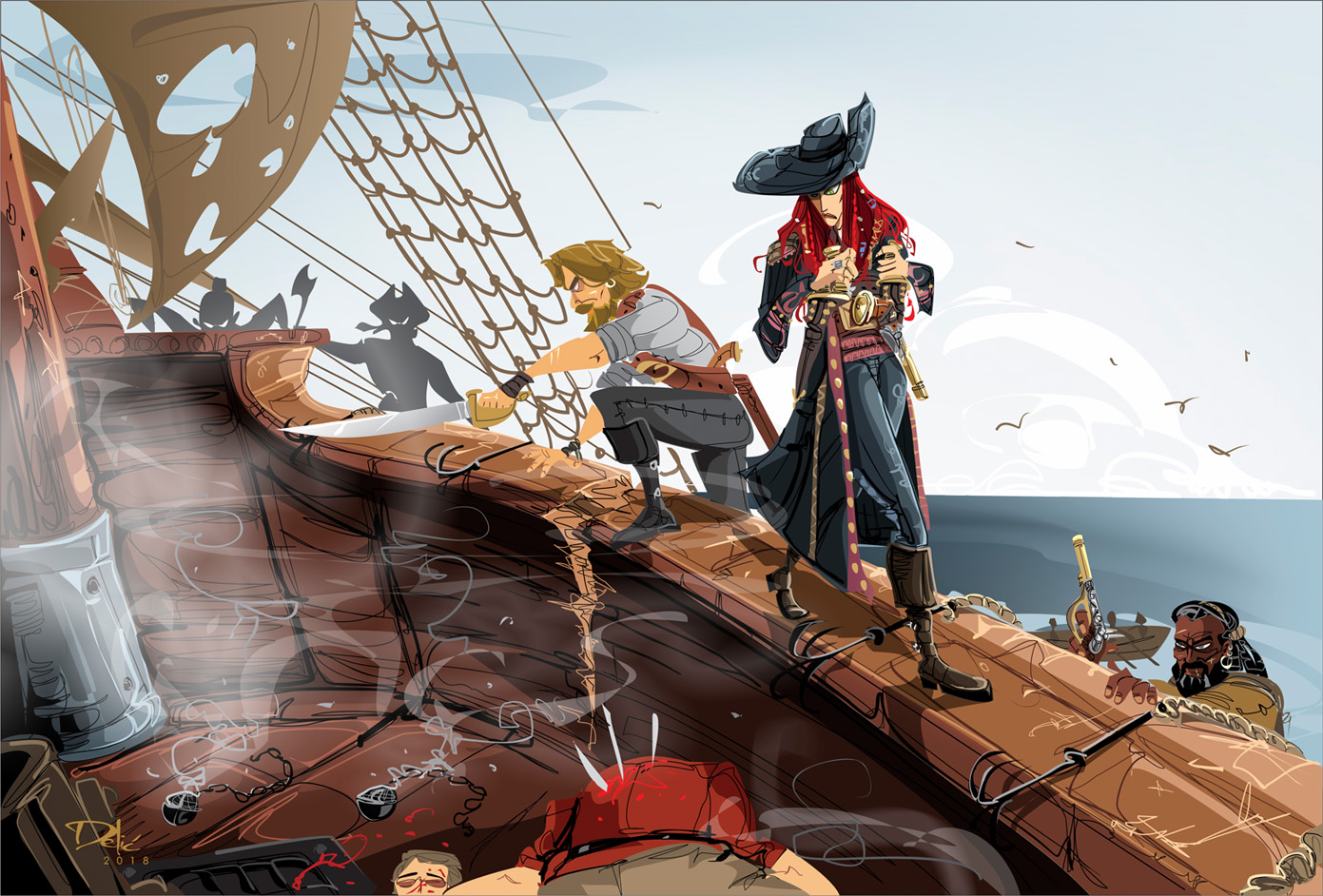 Watch
"As to hanging, it is no great hardship. For were it not for that, every cowardly fellow would turn pirate and so unfit the sea, that men of courage must starve."




Anne Bonny



Dejan Delic©2018, All Rights Reserved.
All the materials contained in my deviantART gallery may not be reproduced, copied, edited, published, transmitted or uploaded in any way without my written and expressed permission. All rights reserved.

Reply

Odličan rad. Ona dva siva lika lijevo izgledao gotovo kao duhovi. Sviđa mi se to.
Reply

Hvala, druže!


U pozadini su kompozicije, a i dim je svuda unaokolo, pa su uz minimalan kolor i ispali baš kao duhovi. Doduše, mnogi su posle te scene to i postali.

Reply

Mislio sam si, mogla bi se napraviti neka slika slična ovoj, sa crnom pozadinom kao noć, i nekakvi duhovi u raznim nijansama sive napadaju brod, nešto u stilu početka filma Pirates of the Caribbean: Dead Men Tell No Tales, ako si ga gledao.
Reply

Mogla bi, naravno, i tvoj opis me najviše podseća na scenu iz Black Sails-a kada Vane-ovi ljudi upadaju iz vode na brod Ned Low-a i preuzimaju ga. Isto je noćna scena u pitanju. "Dead Men Tell No Tales" sam nažaolst gledao, a nažalost kažem jer su mi prva tri dela Pirata fenomenalna. Ostala dva nastavka po kvalitetu priče i glume mi nekako zaostaju za prva tri nastavka.
Reply

Sjećam se te scene ali tamo su više prostora dali borbi između Vanea i Lowa u kabini nego osvajanju broda. Svakako jedna od najboljih scena u seriji, nema nikakve ljepote i finoće, samo čista, surova, životinjska borba za preživljavanje.

Sto ljudi, sto ćudi. Sve filmove u serijalu volim ali ipak imam svoje vrednovanje. Prvi film ću staviti na vrh, drugi i četvrti u sredinu, a treći i peti na dno.
Reply

Jeste, sjajno si opisao scenu. Baš žestoko hard-core pajanje između dva ludaka. Najjača mi je Vane-ova izjava pre same eskalacije "Mr. Holmes doesn't work here anymore."

Naravno, o ukusima se ne raspravlja. Meni su recimo zadnja dva baš ispod nivoa koji imaju prva tri dela. Da me ne shvatiš pogrešno, i dalje sve to super izgleda, vizuelno je na vrhunskom nivou. Jedine zamerke su mi slab scenario i osrednja gluma.

Reply

Baš. Onako, Vane prvo pije rum iz flaše iako mu je Low ponudio čašu, kao da je on tu već gazda, pa mu onda malo dijeli komplimente, pa se pravi velikodušan sa ponudom, pa mu sasvim hladno u facu kaže da mu želi uzeti sve što ima, i za kraj "Mr. Holmes doesn't work here anymore." Legendarno.

Kod trećeg zamjeram što je predugačak, previše radnje je samo ponavljanje drugog filma (Will Turner želi spasiti oca), i oni čuveni Pirate Lords su samo hrpa kukavica koji čitavu zadnju bitku provedu sa strane ne radeći ništa.

Peti, ista priča o sinu koji želi spasiti prokletog oca, čitava radnja je samo kombinacija svega što je već viđeno u prethodnim filmovima u ovoj ili onoj formi, i uništavanje kontinuiteta iz prethodnih filmova.
Reply

Da, scena je neverovatno odrađena, u svakom smislu te reči. Od samog upada Vane-ovih ljudi na brod, do Vane-ovog kurčenja sa Low-om, životinjske borbe izmađu njih dvojice i na kraju dekapitacije glave. Piratska pajačina u najboljem izdanju.
Ne znam, meni je taj treći deo savršen nastavak drugog dela, i po meni su trebali da stanu na trilogiji ako već nemaju šta pametno da kažu nadalje. Film mi obiluje odličnim scenama borbe (pogotovo ona završna), spašavanje Jack-a, Singapore, Calypso...sve mi je sjajno uklopljeno. Da ne pominjem i činjenicu da je i stalna glumačka postava još uvek tu, i nijednog trenutka mi ništa nije bilo neubedljivo ili dosadno. Čak naprotiv. Kod 4. i 5. dela imam mnogo zamerki, a da ne dužim puno, nekako mi ta dva dela vuku na isisavanje franšize zarad što većeg profita. Ali, opet, to je samo moje mišljenje.

Reply

I love pirate art~ And black sails is an incredible series, I'm so sad it's over. Great job as always!
Reply

Yeah, incredible and such an underrated show. After season 4, there's nothing that could filled its place.
Tnx a lot!


Reply

Love the Black Sails art. Who DOESN'T want to be a pirate?
Reply

Many tnx, Don! True. After "Black Sails" is just hard to resist being under the black flag.

Reply

Yo ho, yo ho, A pirate's life for me.

I have a CD of Cap'n Dan and his Scurvy crew, a pirate hip-hop recording:

You say YO, I say HO!
You say YO, I say HO!

You can fill in the rest with your imagination...
Reply

Reply

Love, love, love it.

Reply

Great job!

)
Reply