I'm a small time YouTuber that plays games for fun in the hopes of entertaining at least one person. I also draw and write in my free time.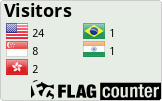 If you'd like to show your support for what I do, click the button below!
Favourite Visual Artist
Josiah "Jazza" Brooks
Favourite Movies
Clockwork Orange, Reservoir Dogs, Kiki's Delivery Service, Ponyo, basically anything Studio Ghibli
Favourite TV Shows
I really don't watch TV all that much
Favourite Bands / Musical Artists
Oomph!, A7X, Green Day, Three Days Grace, Skillet, Three Doors Down, Killswitch Engaged
Favourite Books
Wheel of Time series, Inkheart series, Inheritance Cycle, Clockwork Orange, Chronicles of Narnia, and others
Favourite Writers
Jazza, Cornelia Funke, Christopher Paolini, Robert Jordan, and many more
Favourite Games
Jak and Daxter series, Sly Cooper series, Ratchet and Clank series, God of War series, Asura's Wrath, Dante's Inferno, Minecraft, etc.
Favourite Gaming Platform
PC
Tools of the Trade
Gaomon MK106 Tablet, Gaomon artist glove, Krita
Other Interests
I like writing fantasy short stories and animating things