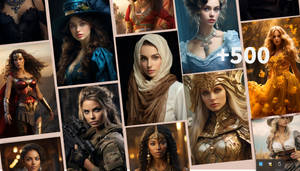 AI Female Photos Collection
This collection are over 1000 illustration to help you get inspired in filed of game/animation/illustration project. This artwork image was created using artificial intelligence and the Stable Diffusion production tool. I am delighted to share this beautiful female with you that I was able to create through this process. AI Art Cosplay and Beauties All images are made of AI . We will update regularly,welcome to subscribers!
---

Description
day 313 of trying not to suck, ow, colours.
i'm a bit burned out, and sick, so here's a tree, i guess? tree roots don't look like that in reality, at all, i was just running out of time so it had to do. also something weird happened during resizing it, i don't even know why it does that.

you can read the Random Volitations comic on my website!
Random Volitations on deimonian.net
i'll keep linking to
Duke of Spades
until i see my analytics say that at least one person has read that short piece of shit, or at least clicked the link.
Image size
444x775px 190.35 KB

Thank you for this, You've made me real a great way of practising lighting.. SO glad you did this and I saw it, thank you very much Deimonian.