Getting the party started.
Okay, well it might not be a party exactly. I'm just having a little artistic license.
So WHAT is
ATOMEKA
?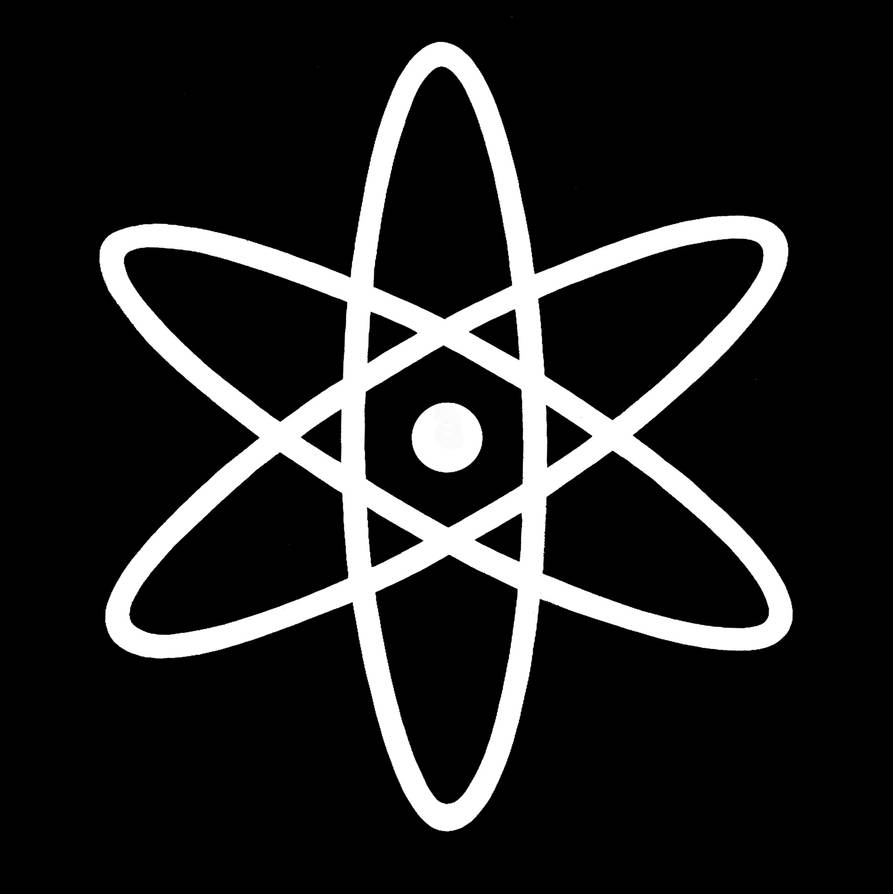 ATOMEKA PRESS was a small boutique publishing company founded in 1987 by Garry Leach and myself with help later from Mike Lake and Titan Distributors.
The initial concept was for a small regular anthology that Garry and myself could split. At that time the concept of doing work and having it published while retaining ownership of it was still very new and opportunities were rare. So Garry and myself set out to do our own thing. The first title was "Skit City" which just didn't gel but was the working title for a few months.
During that time and while attending several comic conventions with other creators we started mentioning what we were planning to do down the pub afterwards. All of a sudden we had several creators wanting to do short stories that we could put in the back of each issue. When we started realizing that the list of would be contributors was getting way too long, we thought about expanding the page count from 32 to 48. Then it became 64 pages. Then 80 and finally we capped the first issue at 96 pages (issue 2 would be 120 pages). It was as we hit the 48 page mark that we settled on "A1" as a title. It spoke more about the quality we were striving for rather than subject matter. It also didn't suggest anything to creators when it came to producing their art.
At that time we could pay a small page rate but it would be just for one printing. Now to my knowledge there was no company then or now that would pay anything if they didn't retain control over the material in someway or other. This was before people started thinking about media rights which really only became a consideration when Kevin Eastman and Peter Laird launched TEENAGE MUTANT NINJA TURTLES on an unsuspecting world.
We started out to do six and actually did seven books. When we started we hoped it would be the beginning of something big but when we were done we realized the drain on our time had pulled us away from being creators.
For myself I had created a name for myself as someone who could build or rebuild things and they sold. Everyone wanted the Editor/Packager me and less the Creator me. Most would promise if I turned XX around I could then do my own thing.
Next thing you know you're married with kids and have to follow where the most money is (or so you hope...).
Well finally I have one daughter in college and the other about to go. Now I can back to creating again. Creating things and retaining ownership as well.
ATOMEKA NOW!

Over the years I've been asked if I had plans to relaunch A1. I didn't because I felt the first series achieved it's purpose and any follow up would put pressure on anyone doing anything now. I mean the pressure of comparing yourself to Alan Moore, Warren Ellis, Grant Morrison, Dave Gibbons, Ted McKeever, Brian Bolland, Garry Leach, Jamie Hewlett, Moebius etc... would make anyone nervous.
But then I had an idea. I would relaunch it but as a brand. A1 will relaunch next June as a full color monthly comic. It will be more in line of that dream of 1987. It will be a new home to many of my ideas and I'll still be able to include friends concepts in the mix.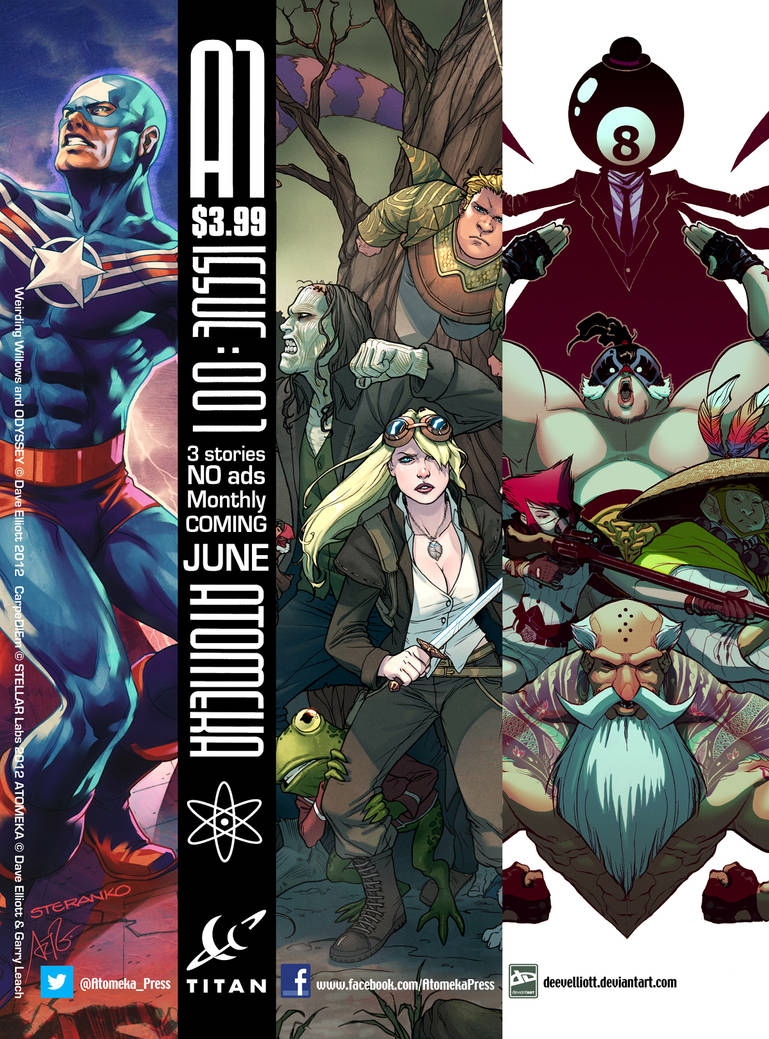 Then two months later the first A1 annual launches. 144 pages of stories and art from creators around the world. This will not be a collection of the monthly book, this will be completely different material in a completely different format. The monthly book will be a 32 pages American sized comic. The annual will be an 8 x 11 over-sized hardback book. There will be a second annual called MONSTER MASSACRE that will emphasize more fun, sex, blood and action (not always in that order) and will be in the same over-sized hardback format.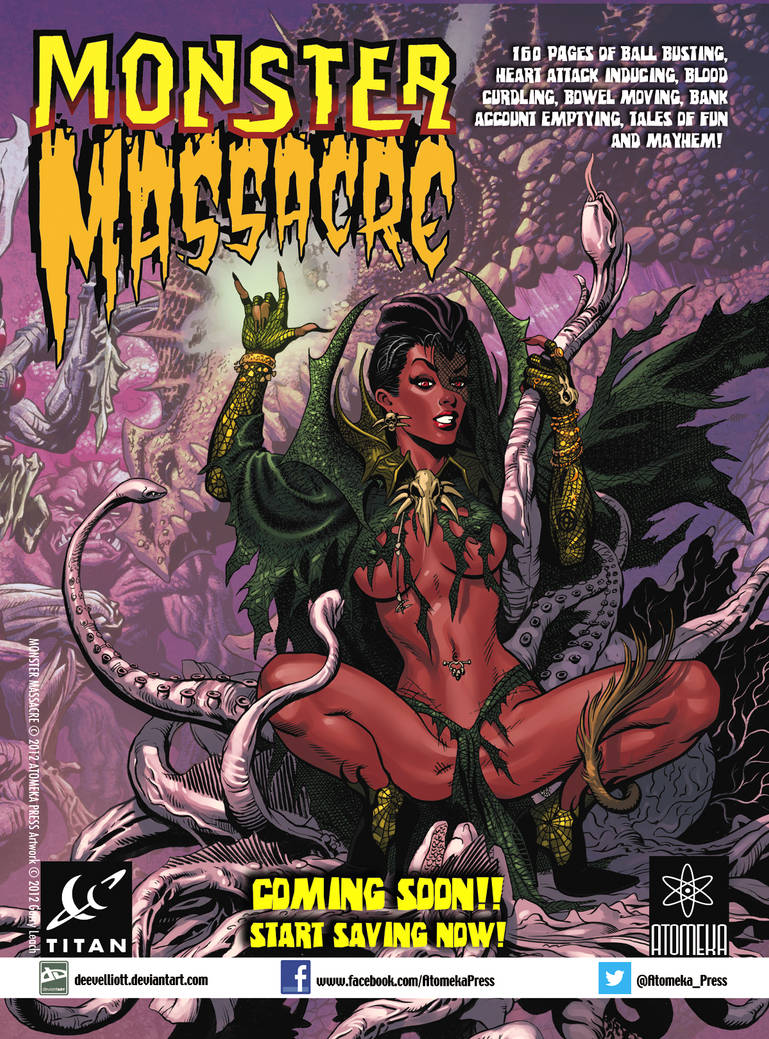 Like its predecessor the A1 annual will contain stories and art from both established and new creators. It's not always about trying to tell mini 'Watchmen' caliber stories, A1 is about being creative, experimenting and having fun. It's also about taking your first steps into a Creator Owned World.
We've set up a publishing deal with TITAN BOOKS in the UK for worldwide distribution and they'll also be handling digital and foreign rights for the editions.
titanbooks.com/
Atomeka will continue packaging at least one issue of HEAVY METAL each year. This will serve to promote what we are doing to their audience so much of the material in those issues of Heavy Metal will appear in the Monster Massacre and A1 annuals.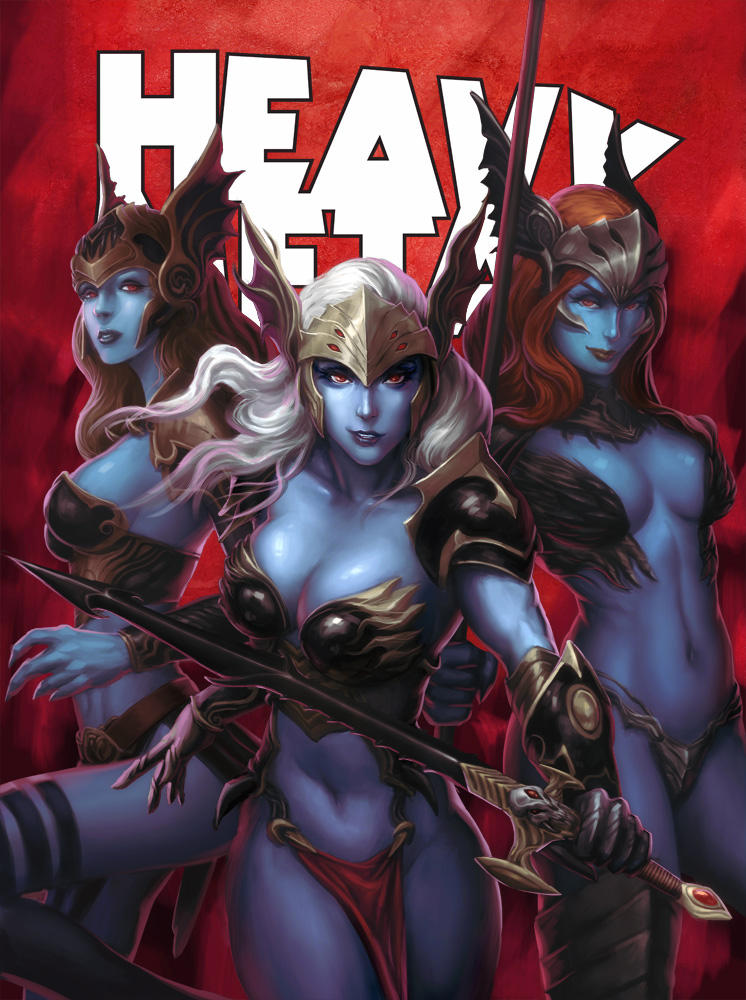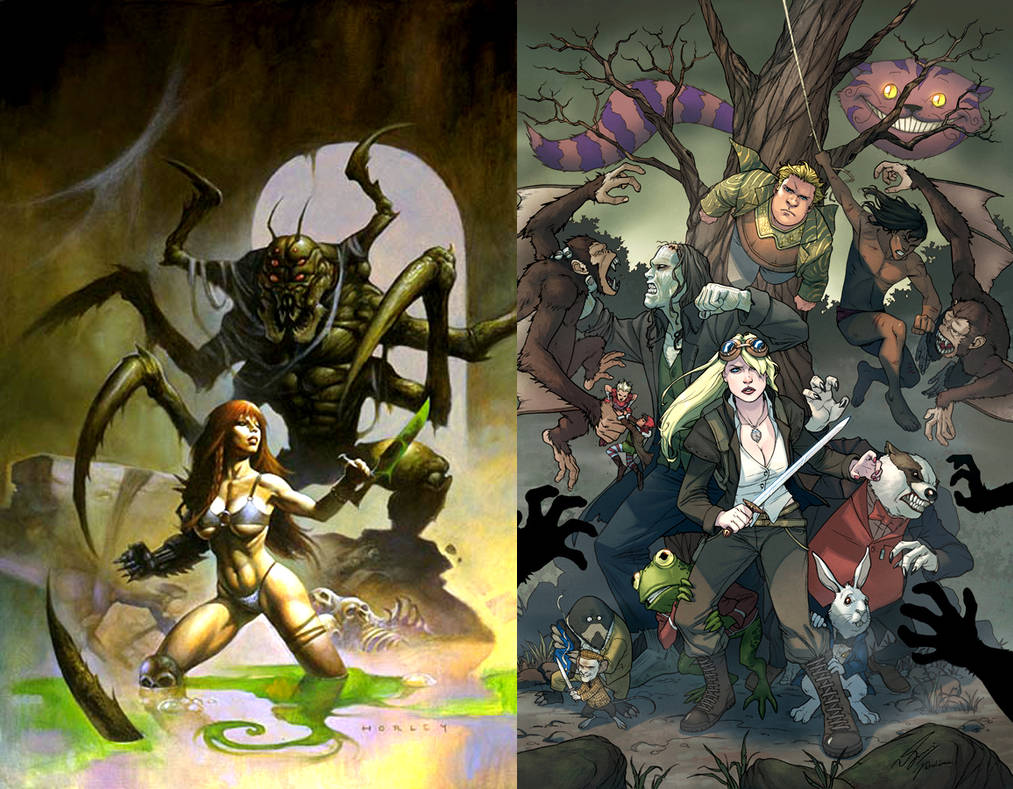 I am writing this all out so it should answer any questions from any one wanting to submit their stories or work to appear in either of these books or anything Atomeka is doing.
1/ The most IMPORTANT FACT that you need to know now. I am not paying page rates and everyone who is on board is there to primarily have fun and maybe try out a new idea or concept. All monies are royalty based and while there will be a few comp copies further copies of the books are available for sale at wholesale rates.
2/ It is 100% CREATOR OWNED. What you do stays yours. The only thing we require is your understanding on is that we aim to keep these editions in print for as long as possible. Same goes for hopefully foreign editions of these books as well. Your material will stay in the book until the editions and series are discontinued. However you are free to use the same story/materials in any other collection you wish. It is YOURS.
3/ As they are annuals we will be paying royalties once a year. If successful we'll make that twice a year. But do not bank on this as a money earner. We're doing this to get our ideas out, have fun and buying a few beers at the end of it is a bonus, although if you attend a lot of conventions and can sell a lot of copies yourself, it can be a nice bonus.
4/ If the material you submit goes into Heavy Metal there will be a payment made to you of $75 per page (that is the Heavy Metal page rate now). That covers the entire creative team.
5/ Remember, this gives you a platform to show your ideas and property to a publisher if the world you're creating has a life bigger than the 5-15 pages that we can allot. Titan Books themselves are always looking for projects so this can be a way to get it to their attention.
For myself I am putting my creative efforts into WEIRDING WILLOWS with Barnaby Bagenda and ODYSSEY with Garrie Gastonny, both colored by Sakti Yuwono and all from the Jakarta art house STELLAR LABS run by Sunny Gho.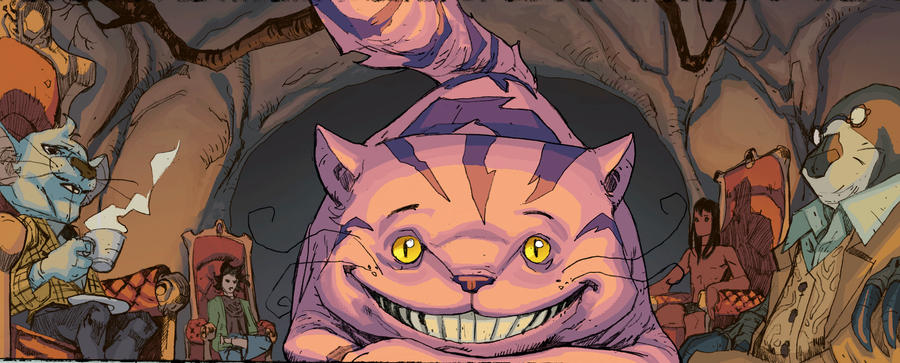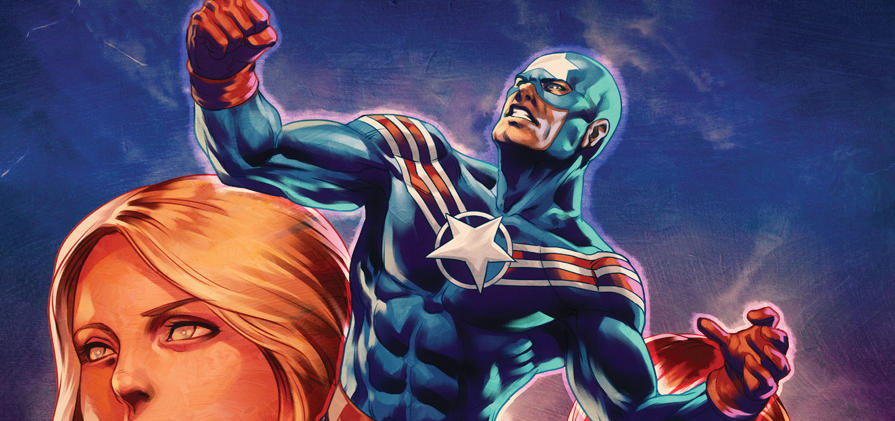 STELLAR LABS are doing their own creator owned strip call CARPE DIEM, and take it from me it's one of the best strips ever about assassins.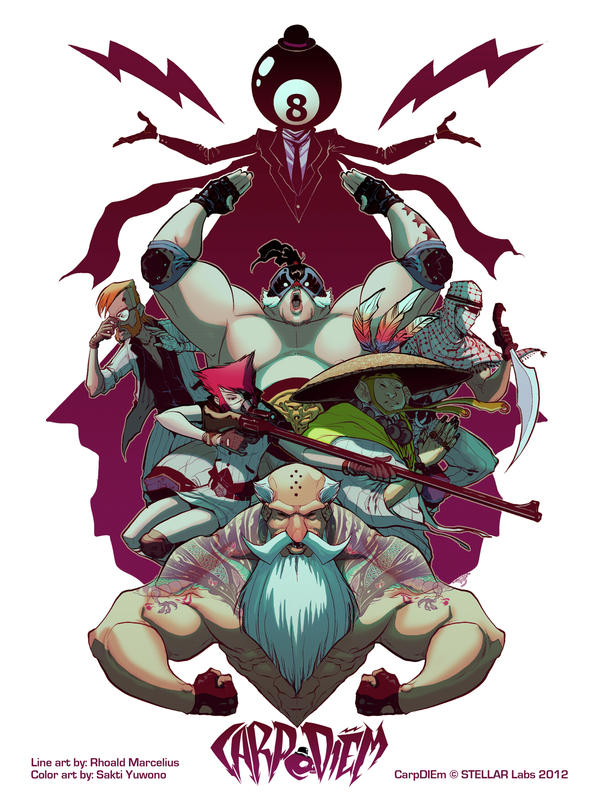 While many creators I know have signed up for regular spots I do want to give the opportunity to some the Deviant's on here whose work I think is terrific and deserving of seeing print. I'm also planning on doing some DeviantART exclusives like variant covers and T shirts, but that'll be down the way a little.
Any questions or queries let me know by either posting below or sending me a message.
I'm hoping the next few years will be both fun and exciting.
If you pick up a copy of HEAVY METAL issues 259 or 260 you'll get a little taste of what's in store.
Yours,
- Dave